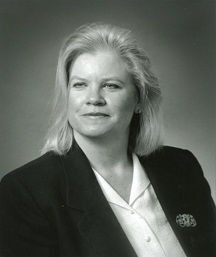 Obituary of Anne Louise Naczi
ANNE LOUISE NACZI
Anne L. Naczi, age 65, of Delmar, DE, died on July 18, 2023. Anne was born on November 30, 1957, in Wilmington, DE, to Robert F. and Mary C. Naczi. Anne died wearing the Brown Scapular and having received the Last Sacraments from a priest of the Congregation of St. Pius V.
A lifelong Delawarean, Anne attended Ursuline Academy. She earned her B.A. in English at Georgetown University, and went on to earn both her J.D. and LLM in tax law from Villanova Law School. She was a long-time member of the Delaware legal community specializing in medical malpractice defense, first as a partner with Tybout, Redfearn and Pell, and later with Griffin and Hackett. She was a member and Past President of the Delaware Bar Association as well as a member of the American Bar Association, the American Board of Trial Attorneys, and the Terry Carey Inns of Court, an organization of southern Delaware lawyers.
Anne enjoyed spending as much time as she could in Cape May, NJ, where she served as past president of her neighborhood homeowners association. She also enjoyed many wonderful vacations in St. Kitts as well as memorable trips to Alaska, England and British Columbia. Always eager to serve her community, she was a Board member and was active with the Delaware Community Foundation.
She is survived by her husband Wayne N. Elliott, Delmar, DE; two stepchildren Jennifer Jurewicz (Gabe) and Daniel Elliott (Missy), and four grandchildren, all of Hockessin, DE; her siblings Marie Michur, Silver Spring, MD, Barbara Naczi, Frederick, MD, Robert Naczi (Mary), Brewster, NY, and Sister Therese Marie, Round Top, NY; and ten nieces and nephews, who loved her dearly.
Holy Requiem Mass will be celebrated on Tuesday July 25, 2023, 10:00 AM, at St, Joseph's Novitiate in Round Top, NY. Recitation of the Holy Rosary will take place prior to the mass beginning at 9:30 AM. A Celebration of Life will be held at Wilmington Country Club at a later date to be announced.
Arrangements have been entrusted to the care of the Dufresne & Cavanaugh Funeral Home, Latham, NY.
For further information or to leave a condolence message for the family please visit www.dufresneandcavanaugh.com.