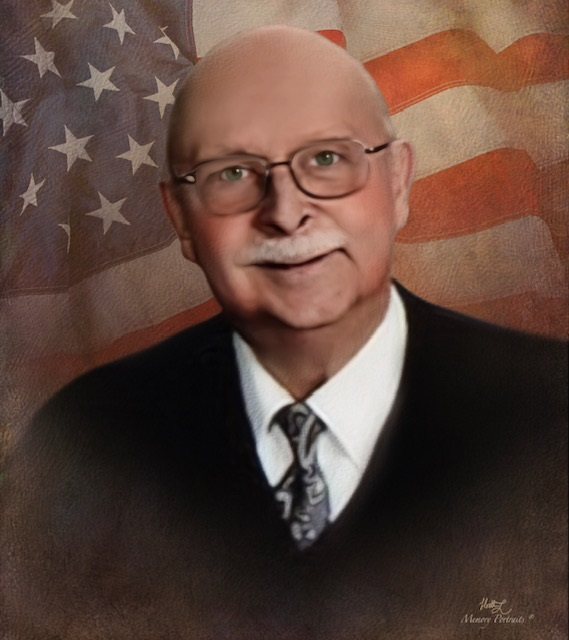 Obituary of SSG Richard G. Nash, US Army Ret.
SSG RICHARD G. (RICK) NASH, US Army Ret.
On Sunday 30 April 2023 Richard G. (Rick) Nash, Life Member of the Verdoy Volunteer Fire Dept., answered his last alarm.
Rick, as his friends called him, was born 17 August 1941 in Glens Falls, NY to the late Cathrine Griffin Nash and Colonie Police Sgt. William R. "Willie" Nash of Latham NY.
He attended his early grammar school in a one room schoolhouse in Latham and graduated from Christian Brothers Academy in their 100th graduating class of 1959.
After attending a Siena college, Rick enlisted in the US Coast Guard where he proudly served for six years, rising to the rank of Petty Officer 2nd Class. It was during this time he married his childhood sweetheart, Maureen D. Murray of Cohoes, NY, they would have celebrated their 60th wedding anniversary on 11 May 2023.
They moved to California where he went to work for the Atchison, Topeka and Santa Fe Railway. Rick was eventually promoted to Chief Clerk (Office Manager) in their International Sales Office.
Maureen & Rick also owned and operated Chapel Florist of Downey, CA, where she won many awards for her floral designs.
He joined the Huntington Park Elks Lodge #1415 where he became an accomplished Harley-Davidson rider with their Motorcycle Stunt and Drill Team (later known as the Victor McLaghlin Motorcycle Stunt and Drill Team). The highlight of this association was performing with them in 3 Tournament of Roses Parades in Pasadena.
He moved his family back to Latham in 1976 and became employed with the Town of Colonie Dept. of Parks & Recreation where he stayed until his retirement in October 2001.
It was during this time he became involved with the Verdoy Volunteer Fire Dept., serving as Association President, Association Secretary, Captain, Lieutenant, and Sergeant of Fire Police and becoming an EMT.
Rick rejoined the military in 1981 as Sergeant in the Medical Corps of the 1st BN, 210th Armored Division, NYARNG. Later, he transferred to the 364th General Hospital, USAR and was promoted to Staff Sergeant. It was during his time with the Army Reserve, he was sent to Newark, DE and the University of Delaware to become a Licensed Practical Nurse (LPN). He was activated in 1991 for Operation Desert Storm, serving at Walter Reed Army Medical Center, Washington, DC as a medical-surgical nurse. Rick received several awards and decorations during his military career including the Army Commendation Medal, Army Achievement Medal with Oak Leaf Cluster, Army Good Conduct Medal and Coast Guard Good Conduct Medal. He was honorably retired in 2001 after proudly serving his country for 27 years.
After retirement, Rick took a part time job with the Hertz Corporation as a driver, which he enjoyed because he said it was more like visiting with friends than a job.
He also became more active in model railroading, his life long hobby. Joining the Empire & Eastern Division of the Toy Train Operating Society, he was editor of that club's newsletter for several years. He enjoyed attending his two favorite train shows in West Springfield, MA and York, PA.
He and Maureen enjoyed long weekends during the summers at their camp on Sacandaga Lake. During the winter months, they could be found at the Glens Falls Civic Center cheering for the Adirondack Red Wings, Adirondack Ice Hawks and later the Adirondack Frostbite as they held season tickets for many years beginning with the Adirondack Red Wings.
In addition to the BPOE in Huntington Park, CA, Rick also belonged to Sur Estes Floral Ass'n., Los Angeles, Southern California Transportation Ass'n., Train Collectors Association, Toy Train Operating Society, the New Haven Railroad Historical & Technical Association, New York Central System Historical Society, Santa Fe Railroad Historical Society, the Hudson Berkshire Div., NMRA, Lightship Sailors Assn., Fire Ass'n State of NY, Albany County Fire Police Association, and Albany County Past Chiefs and Presidents Assn.
His love of cats led him and Maureen to adopt several different species over the years. Rick was especially fond of his favorite, a black cat named "Smokey" which was adopted from a shelter and his current favorite "Max". When Smokey died suddenly, Rick wore a medal with Smokey's picture for many years after.
Survivors in addition to his wife Maureen include his favorite daughter Jacqueline, favorite son-in-law William "Tom" Hawkins, favorite son Darrin and favorite daughter-in-law Alice (Baker) Nash. Also survived by granddaughter Kaylee Pressimone, great granddaughters Sophia and Maygen, and much-loved cousin Sandra Lester.
Relatives and friends are invited and may call on Saturday 6 May 2023 from 09:00 – 11:00 AM at Dufresne & Cavanaugh Funeral Home, 149 Old Loudon Rd., Latham, NY. Funeral Service with full Military and Fire Departmental Honors will beginat 11:00 AM with Rev. William (Tom) Hawkins presiding. The service will be livestreamed and may be found at https://www.facebook.com/dufresneandcavanaugh/. Rite of Committal and Interment will take place immediately following the service in the family plot of St. Mary's Cemetery, South Glens Falls. Flowers are welcome however memorial contributions may be made to Verdoy Volunteer Fire Association 988 Troy-Schenectady Rd Latham, NY 12110 or Mohawk Hudson Humane Society, 3 Oakland Avenue Menands, NY 12204.
To leave a condolence message for the family or order flowers please visit www.dufresneandcavanaugh.com.
To send flowers to the family or plant a tree in memory of SSG Richard Nash, US Army Ret., please visit Tribute Store
Visitation at Funeral Home
9:00 am - 11:00 am
Saturday, May 6, 2023
Dufresne & Cavanaugh Funeral Home
149 Old Loudon Road
Latham, New York, United States
Funeral Service
11:00 am
Saturday, May 6, 2023
Dufresne & Cavanaugh Funeral Home
149 Old Loudon Road
Latham, New York, United States
Final Resting Place
1:00 pm
Saturday, May 6, 2023
St. Mary's Cemetery
225 Main Street
South Glens Falls, New York, United States