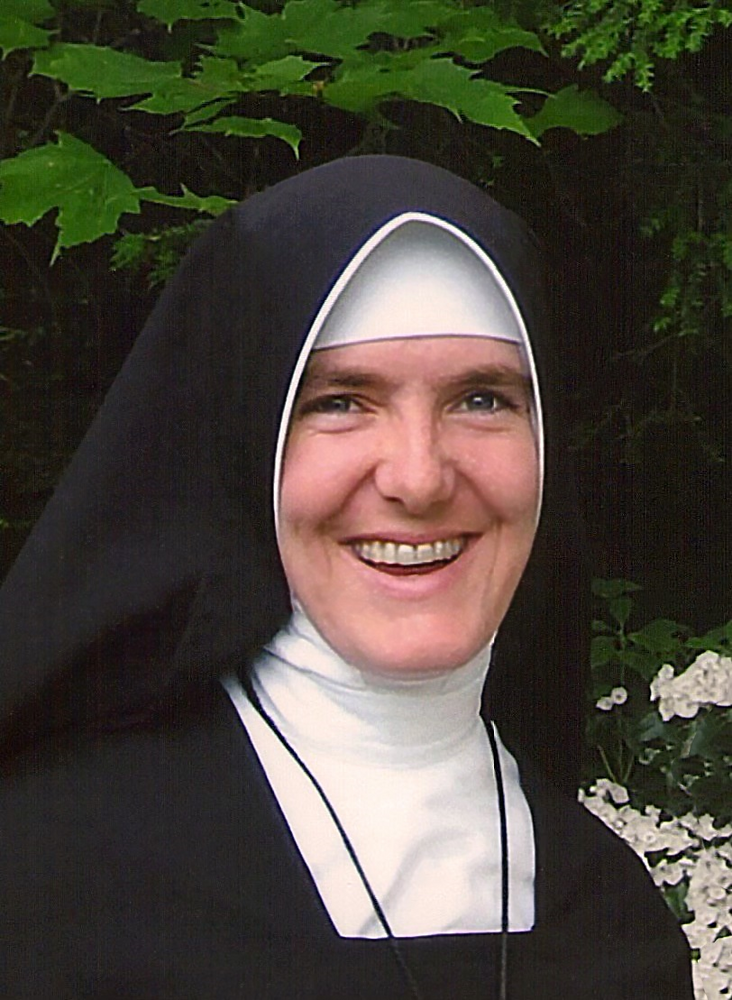 Obituary of Sister Mary Joseph Collins
SISTER MARY JOSEPH COLLINS
ROUND TOP, NY - Sister Mary Joseph Collins, of the Daughters of Mary, Mother of Our Savior, age 56, died peacefully Thursday, March 9, 2023, at St. Joseph's Novitiate in Round Top, NY, after suffering from cancer for over a year. Born Suzanne Patricia on May 28, 1966, in Ft. Belvoir, VA, she is survived by her mother Edith (Head) and by siblings Richard (Teresa), Cathy (Tim) Meagher, John (Christine), 12 nieces and nephews, and several grandnieces and nephews. Sister was predeceased by her father John and her nephew Andrew.
After graduating from Holy Innocents School, Walnut Creek, CA, in 1984, Sister entered the Daughters of Mary. She professed vows in July 1987 and was assigned to St. Pius V School (Long Island, NY) where she was the school secretary for 3 years. She returned to the Novitiate in 1990 and assisted Bishop Clarence Kelly, as well as the Mother General, in a number of important positions, especially during the formative years of the congregation. Sister served as a General Councillor for 9 years, Secretary General for 8 years, and Local Superior of the Motherhouse for 8 years. From 1998 until 2022, as Administratrix General, Sister oversaw the finances for the entire Congregation and provided valuable advice to the Mother General. Sister also managed the congregation's construction projects, including the completion of the Motherhouse in Round Top, NY; St. Pius V School in Melville, NY; and St. Joseph's Convent in White Bear Lake, MN. She was also involved with the current plans for the construction of the Motherhouse extension. For 15 years Sister ran the girls' summer camp and was beloved by the campers and the counselors. Sister celebrated her Silver Jubilee of profession in 2012.
Sr. Mary Joseph had a deep love for her religious vocation and her three vows. She was zealous in working for souls, the good of the congregation, and her Sisters. Her expertise and care in handling the medical needs of the Sisters will be greatly missed. She had a great devotion to the Sacred Heart, the Blessed Mother, and her patron St. Joseph, upon whose help she relied in all her needs. Her example of patience, peace, and resignation to God's Will during her illness will continue to edify many.
Sister's wake will be held at St. Joseph's Novitiate Chapel in Round Top, NY, on Sunday, March 12, 2023, beginning at 6:00 p.m. The Rosary will be recited at 7:30 p.m., and condolences may be offered afterwards in the convent classroom. Father James Curatolo, C.S.P.V, will offer a Solemn High Requiem Mass on Monday, March 13, at 11 a.m. at the Novitiate Chapel. Interment in St. Joseph's Cemetery will follow. May she rest in peace.
In lieu of flowers, contributions can be made to The Daughters of Mary, P.O. Box 205, Round Top, NY. Sister's funeral arrangements are under the direction of Dufresne and Cavanaugh Funeral Home, Latham, NY, Vincent J. Perniciaro, Funeral Director. Condolences may be made at www.dufresneandcavanaugh.com.