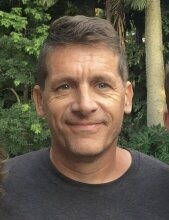 Obituary of Patrick Nash
James Patrick Nash, or Patrick, age 55 of Medfield, Massachusetts passed away peacefully on November 18, 2022 after a short battle with pancreatic cancer and a lifelong battle with Cystic Fibrosis. As with all challenges he faced, Pat fought with great grace and determination.
Patrick was born in Troy, NY to Ann and James Nash of Dennis, MA. He was diagnosed with Cystic Fibrosis (CF) at the age of five, along with his sister Elizabeth, age 3. At that point, CF life expectancy did not extend past high school. Thanks to the courage and tenacity of his wonderful parents, the Nash family didn't accept that prognosis. Patrick and Liz were taught to achieve meaningful life goals, refusing to let fear interfere with new experiences and adventures.
Patrick grew up in North Creek, NY before he attended Boston College as a Mathematics major. He started his career in Boston in banking, where he met Carolyn Cunniff, the love of his life. They married on December 31, 1994 beginning a new year and a great journey of love, partnership, and adventure, accepting that their time together may be shortened by CF. The two moved to North Carolina, where Patrick obtained his Master of Business Administration at the University of North Carolina in Chapel Hill. After graduation, Patrick and Carolyn moved to Silicon Valley, California, where he began his decade-long career at Intel.
Patrick retired in 2006 so that he could be a fully dedicated stay at home parent to his children, Sydney and Sam. He was actively engaged in their schooling, their sports teams, and their everyday lives. Patrick was an integral member of the Sacred Heart School community, contributing so much more than his time and energy. He brought his strategic thinking and dedication to his many roles including basketball coach, strategic advisory board member, and volunteer, and his impact was felt by many.
Pat's love for life was undeniable - as the master of vacation planning, he was always traveling the world and exploring new places. He often aligned those travel plans to big sporting events, such as the Olympics and NCAA Men's Basketball Final Four, where he was often the loudest in the crowd. With a love of fitness and the outdoors, he frequently skied Lake Tahoe, and snuck away to the beaches of Santa Cruz every chance he could get. Patrick established a strong network of friends, and turned every get-together into a celebration, lighting up any room with his passion and storytelling. In 2017, the family moved back to the east coast, taking up residence in Medfield, Massachusetts. Patrick joined his longtime friend as assistant coach for a local high school girls basketball team, continuing his passion for developing girls into confident leaders. He continued his love for fitness and the outdoors, then skiing the Northeast, and spending much time on Cape Cod. He took to ocean swimming as a way to keep his health strong and nurture his competitive spirit, often swimming more than an hour at sunset. With the onset of COVID, Patrick turned his attention to the Cystic Fibrosis community. The normalization of video conferencing provided a unique opportunity for connection between CF patients who previously had limited chances for face to face interactions due to cross-infection risk. Through online conferences which were initially focused on sharing information about COVID and the special risks to the CF population, Pat made numerous friends and assisted others with everything from acquiring N95 masks to supporting physical and psychological challenges associated with their medical conditions. He joined the Cystic Fibrosis Research Institute (CFRI) Strategic Advisory Board and also began work to improve screening protocols for GI cancers for CF patients.
Patrick will be remembered and adored for so many things, his passion for life, his sense of adventure and travel, his dedication to fitness, his fierce competitiveness, his energy for debating all things, his adoration for his family, and his love for UNC basketball and horse racing. But above all, he will be remembered for being an extraordinary friend. He was always there for his friends and family - in good times and bad. He would not shy away from a difficult situation and always let people know how much they meant to him. Patrick never wasted a day and packed so much living into those 55 years!
Patrick is survived by his wife Carolyn, children Sydney and Sam (of Medfield, MA), parents Ann and James Nash (of Dennis, MA), sister Christine Nash and her husband Andy Chen (of Lafayette, CA). Patrick was predeceased by his sister Elizabeth and brother in law Chris, who were, without a doubt, awaiting him as he entered heaven. Patrick also leaves his mother and father in law, Margaret and Thomas Cunniff (of Foxborough), his sister in law Susan and her husband Paul Steeves (of Foxborough), his brother in law Thomas and his wife Kerry Cunniff (of Ruskin, Florida), and his sister in law Deborah Cunniff (of Foxborough). Patrick was the proud uncle to nine nieces and nephews, and three grandnieces.
Relatives and friends are kindly invited to attend calling hours on Thursday, December 1 from 4 to 7PM at Roberts and Sons Funeral Home, 30 South Street, Foxborough, MA. A funeral mass will be held at 10AM on Friday, December 2 at St. Mary's Church, 58 Carpenter Street, Foxborough, MA. Interment will be held at a later date.
In lieu of flowers please consider a donation to the Elizabeth Nash Foundation (www.elizabethnashfoundation.org/donate), an organization Patrick co-founded to improve the lives of those afflicted with Cystic Fibrosis.