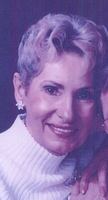 Jean (Henry) Houghtaling
JEAN (HENRY) HOUGHTALING
Troy– Jean (Henry) Houghtaling passed away peacefully at the Eddy Geriatric Center on Wednesday April 26, 2017. She now joins her beloved husband, George who died in May 2014. She was daughter of the late Ellen Stewart Henry Wheeler and John Henry and was born in Troy on June 26, 1932. Jean met George at a Carrolls Grove Square Dance and shared 61 years together.
After Jean raised her family, she entered the work force and retired from the RPI Library after 25 years of service. She then entered into her retirement career as a noon aide in the North Colonie School District where she was affectionately known to the students as Mrs. H., finally retiring in 2010 after nearly 15 years of dedicated service. Her voice rang out at the Oakwood Presbyterian Church for many years. Jean enjoyed shopping excursions, hunting for antiques, and keeping a beautifully decorated home. She also spent many years volunteering in the Samaritan Hospital Gift Shop but nothing brought her greater joy than seeing her grandchildren grow into adulthood.
Jean is survived by her loving children Kathy (John) Phoenix of Speigeltown, Lori (Dan) Schermerhorn of Latham and Paul Houghtaling of Tuscaloosa, Alabama as well as her 5 cherished grandchildren; Colin & Courtney (Tony) Phoenix, Alison (Sean) DeLamater and Caiden and Devan (Chris) Schermerhorn and her 3 adored great grandchildren Ava and Hunter DeLamater, Audriana Phoenix. Also surviving are her brother in law Ronald Houghtaling and sister in law, Jane Colangelo.
Jean's daughters wish to thank the staff at the Eddy Geriatric Center-Courtyard for their compassionate care of our mother. They made her final months comfortable and filled with love. We are forever grateful.
Services will be private at the convenience of the family. Those wishing to make a contribution in her memory are suggested to do so to benefit the Lansingburgh Boys and Girls Club, 501 4th Avenue, Troy NY 12182 or the Brunswick Cares Community Food Pantry, 42 White Church Lane, Troy, NY 12180.
For information or to light a memory candle for the family please visit www.dufresneandcavanaugh.com