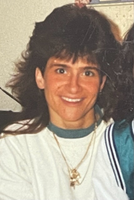 Shari L. Bruce
SHARI L. BRUCE
TROY - Shari L. Bruce, 56 of Cohoes, entered into eternal rest on Sunday, March 5, 2023.
Born in Troy, NY, she was the daughter of the Linda M. (Linen) Bruce and the late William Bruce Jr.. Shari was a graduate of Troy High School.
Shari is survived by her beloved mother Linda M. Bruce, for whom she devotedly cared for, her longtime partner Erin Bennett and her daughter Harleigh Bennett, daughter Amber Bruce, sister Marybeth (Leonard) Riley, brother William Bruce III, granddaughter Nevaeh, as well as several aunts, uncles, nieces, nephews, and many cherished and loving friends.
Shari will be remembered for her big heart, love of life, and love of music. She will be deeply missed yet forever remembered and loved by all who knew her. As Shari would often say and would want those she leaves behind to remember: "Peace, Love, and Happiness".
Those wishing to remember Shari and celebrate her life are invited to attend a visitation and prayer service on Friday, March 24th, 2023 from 12:00 to 1:00 pm at the Dufresne & Cavanaugh Funeral Home, 149 Old Loudon Rd., Latham.
Please visit www.dufresneandcavanaugh.com to leave a condolence message or order flowers.