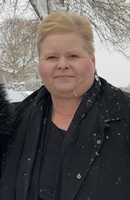 Diana Marie McFarland
DIANA MARIE MCFARLAND
WATERVLIET – Diana Marie McFarland, 64 of Watervliet, passed away Monday, March 6th, 2023 at her home.
Born on November 8th, 1958 in Fort Pierce, FL she was the daughter of the late Cloyce and Virginia (Stoddard) Lumpkin.
Diana worked for the New York State Department of Health in Albany.
She is survived by her two children Shannon (Jake) Phillips, and Connor (Kylie Veldman) McFarland, siblings David (Mindy) Lumpkin, DJ (Michael) Szymanski, grandson Chase Jonathan Phillips, multiple nieces and nephews, as well as special friend Nancy Dore.
Relatives and friends are cordially invited to attend a visitation with Diana's family on Monday, March 13th, 2023 from 10:00 am to 12:00 pm at the Dufresne & Cavanaugh Funeral Home, 149 Old Loudon Rd., Latham.
To leave a condolence message or order flowers please visit www.dufresneandcavanaugh.com.