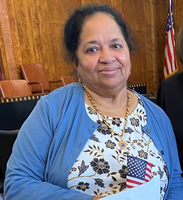 Kumari Vijayan
Vijayan, Kumari
ALBANY - Kumari Vijayan (Narayanan) passed peacefully on Thursday, March 2, 2023 in the comfort of her own home in Albany, NY.
Kumari was born in 1954 to Ramen and Parkutty Narayanan in Thodupuzha, Kerala, India. She immigrated to New York in 1981 and married her husband, Vijayan, in 1984. She worked tirelessly throughout her career as a Certified Nursing Assistant to make sure all those in her care were always in good hands.
Kumari's welcoming smile and home cooked meals were her ways of showing her love and gratitude to those around her. She especially enjoyed the company of her beloved husband, spending time with her grandkids, and gardening in her vegetable and flower garden. Most of all, Kumari's greatest pride and joy came from raising her sons and watching them grow into men with families of their own.
Kumari is survived by her husband Bhargavan, her sons and their families: Kevin, Celeste, and Arya Vijayan and Vinu, Meg, and Livia Vijayan, as well as her siblings Radha, Rajeswari, Rajan, Vijayamma, Sajeevan, and Joshy.
At the request of Kumari's family services will be private at this time. Those wishing to express their condolences may leave a message on the tribute wall (left of this obituary). Arrangements have been entrusted to the care of Dufresne & Cavanaugh Funeral Home, Latham.