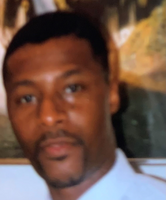 Milton Earl McNeil
MILTON EARL MCNEIL
ALBANY - Milton Earl McNeil, New York passed away on February 14,2023 at his home.
Milton was born in Brooklyn, New York to David Bullock and the late Bessie Mae McNeill on January 27,1963. He attended Prospect Heights High school and attended College in 1983. He was an exceptional artist. Milton was highly intelligent, had a very bright mind, and loved to dress. He was an avid basketball and football fan. He loved to make people laugh and was always having fun. Milton loved family events and would always show up with his camcorder in hand, ready to record all the festivities. Milton loved all of his family. He would often make up nick names for many of his family members.
Milton is survived by his father, David Bullock; Siblings, Ina McNeill Wroten (James), Darlene McNeil, Nina McNeil, Ryan McNeill (Tonya), Tyler Bullock; Nieces, Crystal McNeill, Jessica Homes, Natasha Holmes, Sharlene Provilus, Princess McNeill, Tatianna McNeill, Rihanna McNeill, Tyleia Bullock, Angel Bullock; Nephews, Byron McNeill, Raymond Divine McNeill, Jerome Provilus Jr., Michael Provilus, Jamel Provilus, Chris McNeill, Ronald Morgan, Marcus Bullock; Aunts, Mary McNeill, and Janice Waddell; Uncle, Lenzo McNeill. Milton had many loving aunts, uncles, grand nieces and nephews, cousins, and special friends. Also survived by his "Son and Daughter in Love" Elijah Gist and Quanette Kingwood.
He is preceded in death by his mother Bessie Mae McNeill, Sister Pamela Holmes and brother Gregory McNeill.
Services will be private at this time. A memorial service will be held a later date.
Condolences may be left on this website by visiting the tribute wall link to the left.
Arrangements are under the care of Dufresne & Cavanaugh Funeral Home.