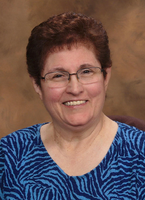 Jeannine C. Pondozzi
JEANNINE C. PONDOZZI
WATERVLIET - Jeannine C. Pondozzi, 80 of Watervliet, entered into eternal life on Monday, October 17, 2022.
Born in Syracuse, NY, on June 16, 1942 she was the daughter of the late Anthony P. and Clara (Mallace) Pondozzi.
Jeannine was a former Sister of St. Joseph as well as a Professor at The College of Saint Rose in Albany.
In addition to her parents, she is predeceased by her siblings Delores (late George), Donna, Richard, and Mark and dear friend Monica Phillips.
She is survived by her brother Anthony (Christine) Pondozzi, her nieces and nephews Amanda Hall, Adam, Nick, Andrew, Shayna, and Jesse Pondozzi, dear friend Sr. Jackie Power, as well as many other cherished family and friends.
Mass of Christian Burial will be celebrated by Rev. Geoffrey Burke on Monday, October 24th, 2022, 10:00 AM, at Our Lady of the Assumption Church, 498 Watervliet Shaker Rd., Latham. Interment to immediately follow in St. Mary's Cemetery, Troy.
A friend to many, may she delight in the love of God and being reunited with her parents, grandparents, siblings, and friends who have gone before and now welcome her home. May she rest in peace and joy.
Arrangements have been entrusted to the care of Dufresne & Cavanaugh Funeral Home, Latham.
To leave a condolence message, order flowers, or for more information please visit www.dufresneandcavanaugh.com.