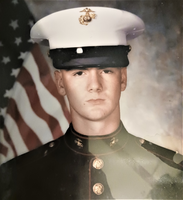 Thomas J. Maloney
THOMAS J. MALONEY III
SELKIRK - A son, a brother, an amazing friend, Thomas J. Maloney III, suddenly passed away at the young age of 42 on Sunday, October 9, 2022.
Born in Troy, NY, he was the son of Alison L. (Bryan Grant) and Thomas J. Maloney.
Tommy will be missed by many and kept in all of our hearts always. He was always the man that could walk in a room and light it up with his amazing smile and his big hearted laugh. He was the type that would give you the shirt off his back; the first to be there when needed. He was the type to always make everyone laugh no matter the situation. He did so much in such a short time! He was a proud Marine, a proud son, a brother, and a proud uncle. Above all he was a proud, loving, and caring friend! He touched so many souls with his big heart and will be truly missed, loved, and remembered for all the amazing things he did!
Survivors in addition to his parents include his paternal grandmother Catherine Maloney, sister Alica Maloney, stepbrother Jesse Grant, niece and nephews RayDen & Mileena, as well as several loving aunts, uncles, cousins, and many friends.
Relatives and friends are invited to visit with Tommy's family on Tuesday, October 18th, 2022 from 11:00 AM to 12:00 PM at Dufresne & Cavanaugh Funeral Home, 149 Old Loudon Road, Latham.
Interment will immediately follow the visitation in Memory Gardens Cemetery, Albany.
To leave a condolence message for Tommy's family, order flowers, or for more information please visit www.dufresneandcavanaugh.com.