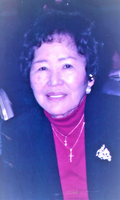 Chung Soon Simpson
CHUNG SOON SIMPSON
SCHENECTADY - Chung Soon Simpson, 85 of Schenectady, beloved wife of James Simpson, passed away peacefully on October 5th, 2022 at St. Peter's Hospice Inn, Albany.
Born February 23, 1937, in Seoul South Korea, Chung was the daughter of the late Joo Mo and Cha (Na) Chung. Chung was married to James Simpson in 1988 and the two shared a blessed union of 34 years prior to her passing.
Chung was a Housekeeper, employed with Siena College in Loudonville. She worked there for twenty years before retiring in 2004. In her spare time, she enjoyed gardening, cooking and bowling.
In addition to her husband, she is survived by her sister, Suk (Jeong) Lee of Latham and her nephews, Chang (Dena) Lee and Won (Joowan) Lee. She is also survived by her great nieces and great nephews, Kevin, Hannah, Amanda, Stephanie, Samantha and her loving canine companion, Kongju.
She was predeceased by her beloved son, Arlen Nickolan Jr. in 1979.
Relatives and friends are invited and may call on Monday, October 10th, 2022 from 4:00 to 7:00 PM at the Dufresne & Cavanaugh Funeral Home, 149 Old Loudon Road, Latham.
A Mass of Christian Burial will be celebrated on Tuesday, October 11th, 2022, 10:00 AM at The Albany Korean Catholic Church, 17 Exchange Street, Albany.
Interment will take place in Immaculate Conception Cemetery, Latham.
For directions, information, to light a memory candle or order flowers for the family please visit www.dufrenseandcavanaugh.com.