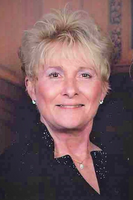 Eleanor H. "Muffy" Nasner
Eleanor "Muffy" Holbritter Nasner
LOUDONVILLE – Eleanor H. "Muffy" Nasner, 76 of Loudonville, peacefully entered into eternal rest on Wednesday, August 24th, 2022.
Muffy was born January 25, 1946 in Albany, New York, to J. Albert Holbritter and Jane Newton Baldwin Holbritter. The Red Cross surprised her father, a 1st Lieutenant stationed in the South Pacific, by announcing that Private First Class Eleanor had arrived…
Muffy grew up in Plattsburgh and spent a great amount of time with her maternal grandparents at the family farm on the Hudson River, Cedar Hill, and at their vacation home on Assembly Point in Lake George. After moving to Delmar, Muffy graduated from the 150th Anniversary Class of the Albany Academy for Girls.
Always a maverick, Muffy moved to Los Angeles in the 1960s where she began working for a luxury car leasing company, moving convertibles and sports cars between Los Angeles and Las Vegas. She worked as a stunt rider at Paramount Pictures Studios and she performed as Barbara Stanwyck's stunt double in the television series, The Big Valley.
Muffy moved back to New York in 1973 to help care for her grandmother and she lived on the family farm for the next decade with her St. Bernards while working at Liberty Mutual. In 1984, she moved to Berne and began raising world champion Shih Tzus. By 1990, Muffy had returned to Delmar where she raised her three daughters. In 2007, Muffy and her sister Maggie moved to Loudonville together and began spending their summers in Lake Placid. Muffy was recently blessed to see the arrival of her first grandchild.
She was a lifelong supporter of animal welfare organizations, a member of the General Society of Mayflower Descendants, the Bethlehem Historical Society, and a past president of the Albany Academy for Girls Alumnae Association.
Muffy is survived by her friend Francis Nasner and their beloved daughters Melissa and Kelly Nasner, Amanda Shapiro (Nick), granddaughter Mia Violet Shapiro, and her sister Margaret "Maggie" Holbritter. Also survived by her nieces Alexandra "Lexi" Buckley (Stephen) and Katharine Moser.
Relatives and friends are cordially invited to call on Tuesday, August 30th from 12:00-1:30 pm at the Dufresne & Cavanaugh Funeral Home, 149 Old Loudon Rd., Latham. A prayer service will conclude the visitation and will begin at 1:30 pm.
Private interment will take place in the family plot of the Chestnut Lawn Cemetery, New Baltimore at a later date.
In lieu of flowers the family kindly request donations be made in Muffy's memory to the Mohawk Hudson Humane Society at 3 Oakland Ave, Menands or https://mohawkhumane.org/donate.