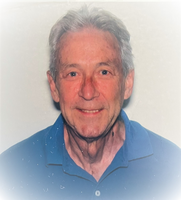 Martin J. Brennan
MARTIN J. BRENNAN
CLIFTON PARK - Martin J. "Duke" Brennan, 75, formerly of Loudonville, died quietly in his sleep on August 1, 2022 after a long illness. His family was there daily, to care for and support him.
Martin was born March 21, 1947 on Long Island to parents Martin J. and Kathryn E. (Carolan) Brennan later moving to and being raised in Albany. He graduated from Vincentian Institute. He completed course work at SUNY Albany before being drafted into the Army where he served a tour in country during Vietnam. He worked as a dispatcher for Verizon, retiring in 2009.
Duke is survived by his wife Katherine (Feeney), his children Amanda Christy (Danielle), Jonathan James (Kaitlin Ahl), Caitlin Siobhan (Alex) Todd, Corinne Elyse (Shane), Martin "Drew" (Melissa) and Christopher Joseph (Heidi) Brennan. He is also survived by eight grandchildren: Teigen, Oliver, Elena, Logan, Benjamin, Aidan, Ethan, and Grace.
In addition to his parents Martin is predeceased by his first grandson, Andrew, who remains forever in all of our hearts.
Duke was dearly loved by his family and will be greatly missed. He considered being a "Dad" his greatest accomplishment. "Other things may change us, but we start and end with family"- Anthony Grant
A private funeral mass will be celebrated at St. Pius X Church, Loudonville with Fr. Russ Bergman and Fr. Jim Walsh, celebrants. Martin will be laid to rest with full military honors at Saratoga National Cemetery.
In leiu of f lowers memorial donations may be made to Saratoga Hospice at https://www.givetocommunityhospice.org/donate/ or mailed to The Community Hospice Foundation 310 South Manning Boulevard, Albany, NY 12208.
Arrangements have been entrusted by the family to the care of Dufresne & Cavanaugh Funeral Home, Latham. For information, to light a memory candle, or leave a condolence message for the family please visit www.dufresneandcavanaugh.com.