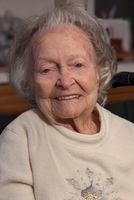 Ruby Lucy Marguerite Dietze Rinaldi
Ruby Lucy Marguerite Dietze Rinaldi
Ruby Lucy Marguerite Dietze Rinaldi, 101, peacefully passed away in her home in Latham on June 17, 2022 with family at her side. Ruby was born in Albany, NY on April 4, 1921 and was a lifelong resident of Albany County. She was the youngest of five daughters born to Ella and Max Dietze. One of her proudest achievements was reaching the oldest age of any member of her family.
Ruby was a graduate of Albany High School and Mildred Elley Business School, and worked for the state of New York. She married the love of her life, David A. Rinaldi, on July 21, 1945 and the two shared a beautiful marriage of 62 years. Ruby had a sharp mind and a love of conversation, telling detailed stories that brought smiles and memories to all who knew her. She started every morning with a cup of coffee and the Albany Times Union, and spent her days watching birds visit her feeder. She was looking forward to being reunited with her beloved David, and there is peace in the knowledge that they are together again.
Ruby is survived by her two loving daughters, Donna Melius of Boynton Beach, FL and Marcia Fazio of Waterford, NY; her cherished grandchildren Maria (Dan) Leavy, David (Kendra) Melius, Gina Geoffroy, Christina (Bryan) Young, Alicia Fazio, and Michael (Ashley) Fazio; and her adored great-grandchildren Lilly Leavy, Matthew Geoffroy, Thomas Geoffroy, Emily Young, and Sierra Fazio. She is also survived by nieces and nephews.
A remarkable group of people made up "Team Ruby," and made it possible for Ruby to remain in her home until her passing. The family would like to thank Phyllis, Lynn, Sandra, Cheryl, Brenda, Amy, Kathy, Erika, Heather, John, Chris, and Drew. Her medical team, Dr. Donna Heffernan and Robin Connolly, her dentist Dr. Charles Strumfeld, and Albany County Hospice were invaluable. The kindness and compassion shown by Team Ruby is truly unforgettable.
Relatives and friends are invited to call on Friday, June 24th, 2022 from 9:00 to 11:00 am at Dufresne & Cavanaugh Funeral Home, 149 Old Loudon Rd., Latham. A prayer service will take place immediately following the visitation at the funeral home. Entombment will take place at Memory Gardens.
Memorial donations may be made to the St. Ambrose Church at www.stambroselatham.com/egiving.
For directions, information or to light a memory candle for the family please visit www.dufresneandcavanaugh.com.