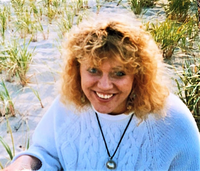 Kristen A Bundy
KRISTEN ANN BUNDY
ALBANY – Kristen Ann Bundy, 57, of Albany passed away on March 3rd, 2022. She was Born in Albany on November 29th, 1964 and was the daughter of the late Walter A. and Anna W. (Wiehler) Bundy. Kristen was raised in North Greenbush.
Kristen was a unique, beautiful soul. In her lifetime, she was many things: a mentor, an artist, a dreamer, a believer, a mother, a friend, a lover. She was talented in many ways as well, however one of her best qualities was her creative mind and eye.She was a charming, intelligent, witty woman, who loved to venture and frequented the beaches of Cape Cod.She recognized beauty in all things, believed in the endless possibilities a day could bring, and had compassion and empathy to those who struggled through life.Kristen volunteered at Equinox for the holidays, spending hours helping to prepare meals and making sure people who didn't have families to go home to were kept happy and full, and to remind them that there's still magic in this world. "And above all, watch with glittering eyes the whole world around you because the greatest secrets are always hidden in the most unlikely places. Those who don't believe in magic will never find it."
Kristen is survived by her three children: Daniel W. Ruede, Dylan G. Hendrick and Brianna E. Hendrick, her siblings, Dawn (Mitch) Walsh and John Bundy, a niece, Emily Gicewicz, and a nephew, Kyle (Leah) Gicewicz. She is also survived by her aunt, Helen (Richard) Murray as well as her longtime companion and dear friend who held a special spot in her heart, James Mahar.
There will be no public services at this time as per Kristen and her family's wishes however a Celebration of Life will take place at a time and place to be announced later in the Spring.
At this time, in lieu of flowers, memorial donations may be made to Albany County Adopt-A-Family at or to the Nature Conservancy
Arrangements have been entrusted by the family to Dufresne & Cavanaugh Funeral Home, Latham.