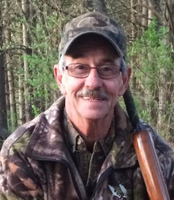 Mark Swatling
SWATLING, MARK (BERT)
LATHAM - Mark Swatling, 75 of Fonda Road, Latham passed away December 12th, 2021 from COVID while on a hunting trip to Michigan with his son.
Mark was born and raised in Latham, the son of the late Catherine Landor Reepmeyer and James Reepmeyer.
He worked at the Albany International Airport, Pepsco and Diamond Rock Terrace in Troy. Mark was an avid hunter, a great cook and the best husband, father and grandfather. He was a great friend to many people. He was truly one of a kind with a heart of gold.
Mark is survived by the love of his life Marylou Swatling, his son Mark (Yvonne), Jeannie Martin (Scott), Nicole McBreairty (Steve), grandchildren Cody Swatling, Brianna Galluzzo, Natalie Martin and Madeline McBreairty and his fur baby Katie. He is also survived by his sister Patricia Kahre. He leaves behind many nieces, nephews and cousins, especially his cousin Paul Reepmeyer and his close friends Christopher DiNovo and Gerry Scalzetto. He was predeceased by his sister Cheryl Cinney.
Visitation will be held Thursday, December 30th, 2021 from 3 to 6 pm at Dufresne & Cavanaugh Funeral Home, 149 Old Loudon Rd, Latham. Prayer service will take place at 5:30 pm with Dec. Bob Sweeney of St. Michael's Church in Troy officiating.
For directions, information, to light a memory candle or order flowers for the family please visit www.dufresneandcavanaugh.com.