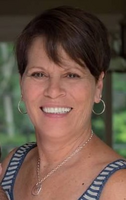 Cynthia Ann Fiegel
CYNTHIA ANN FIEGEL
WATERVLIET - Cynthia Ann Fiegel, 67 of Watervliet, beloved wife of Dennis Paul Fiegel, passed away Wednesday, December 15, 2021 at her home surrounded by her loving family after a long, courageous, and relentless battle with cancer.
Born in Medina, NY on December 20, 1953, she was the daughter of the late Ralph M. and Lois (Gibbons) Brauen.
Cynthia graduated from Trott Vocational School in Niagara Falls, Class of 1972, as Senior Class President, Best Dressed, Honor Society Inductee, and Year Book Editor.
Cindy and Dennis were married on October 12, 1974 in Niagara Falls and enjoyed 47 beautiful years together, many of those which were spent as a supportive military wife. She first joined Dennis on active duty at US Naval Air Station Pensacola, Florida. Dennis and Cindy lived in various locations across the US including Alabama, Texas, Florida, California, finally settling in Albany. Throughout their travels Cindy made friendships that spanned decades and endured a lifetime.
Cindy worked for many years as a Sales Associate for Talbots Women's Clothing Retailer in Albany.
In addition to her husband Dennis, Cynthia is survived by her dear daughters Ashley Ann (Michael) Palage of Loudonville, and Hillary Ann (Kyle) Wirtz of Monroe, CT and their children Michael Palage IV, Alessia Palage, Hunter Wirtz, and Brody Wirtz. Also survived by her three brothers Scott (Sue) Brauen, Steven (Kari) Amey, and Frederick (Kimberly) Amey.
Cindy was always known as one to do for others, putting her needs aside. She loved decorating her house, throwing parties for any and all occasions, Lilly Pulitzer fashion, her beloved canine companions Angel and Tory, cruises, Disney World, Martha's Vineyard, Cape Cod, and weekends in Connecticut. However, out of all the things Cindy found joy and pleasure in, her most valued treasure was that of her family. She was endlessly supportive of her girls and all of their passions through college, into their careers, and their families. Her legacy and devotion to family will remain in their hearts forever.
Relatives and friends are invited to visit with Cindy's family on Sunday, December 19, 2021 from 1:00 - 3:00 p.m. at Dufresne & Cavanaugh Funeral Home, 149 Old Loudon Road, Latham.
A Mass of Christian Burial will be held Monday at 10:00 am at St. Pius X Church, 23 Crumitie Road, Loudonville.
Interment in Saratoga National Cemetery, Schuylerville will immediately follow the mass.
In lieu of flowers donations in Cindy's memory may be made to Memorial Sloan Kettering Cancer Center at https://giving.mskcc.org/give.
For directions, information, to light a memory candle or order flowers for the family please visit www.dufresneandcavanaugh.com.