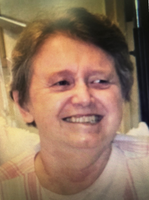 Kathleen A. Campion
KATHLEEN A. HOGAN/CAMPION
NORTH GREENBUSH-Kathleen A. Hogan Campion formerly of Latham, passed away peacefully on September 22, 2021.
Born October 2, 1951 in Troy, she was the daughter of the late John T. Hogan Sr. and Joan P. (Dippo) Hogan. Kathleen was a 1969 graduate of Shaker High School. Kathleen worked as a secretary for Y.M.C.A. in Clifton Park for 15 years, retiring in 2005. She had previously worked for N.Y Telephone for 13 years from 1970 to 1983.
Kathleen is survived by, her sisters Ruth (Nicholas) Positano and Joan Marie Frenzel, and her brothers John T. "Jack" (Cathy) Hogan Jr. and Joseph J. (Kim) Hogan. Kathleen is also survived by several nieces and nephews.
Relatives and friends are invited and may call on Wednesday, September 29th, 2021 from 4-6 pm at Dufresne & Cavanaugh Funeral Home, 149 Old Loudon Rd., Latham.
Kathleen's Committal Service and Interment will take place in Memory Gardens Cemetery, Colonie on Thursday, September 30th, 2021.
In lieu of flowers, memorial contributions can be made in Kathleen's memory to the American Stroke Association, PO Box 3049, Syracuse, NY 13220-3049Attn: Heart Gift Dept.
For directions, information or to light a memory candle for the family please visit www.dufresneandcavanaugh.com