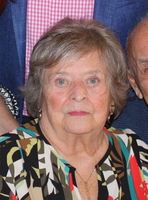 Catherine "Kay" Purritano
CATHERINE "KAY" PURRITANO
Latham-Catherine Elizabeth "Kay" Purritano 81, beloved wife of the late Francis A. Purritano, passed away on April 10, 2019.
Born September 27th, 1937, in Troy, NY, she was the daughter of the late John S. and Catherine E. (Maloney) Parker and one of seven rowdy, hard-working and fun-loving children. Kay was predeceased by her husband of 62 years Frank on June 4, 2018.
At the young age of 16, while attending a clam steam in Latham, NY Catherine met the love of her life, Frank Purritano. A year later, they married on June 19th, 1955 and moved to Green Island, NY. They joined the Italian Fraternal Society which is where Catherine worked as a waitress and quickly found a love for cooking. That love for cooking extended into her own home, having family and friends overly weekly for delicious home cooked dinners, good wine and lots of laughs.
While a member at the Italian Fraternal Society Catherine joined The Little Club, who met weekly to play cards. Catherine had a strong Poker game and enjoyed playing with friends for the many years to come.
By 1963 Catherine had five small children of her own. A devoted mother and wife, she was the happiest when with her children and taking care of their home. She often was found on the sporting fields cheering her children on and working at the concession stands. Nights often ended with a house full of her kids and friends for a home cooked dinner. She never said no to anyone wanting to spend time in the Purritano household.
As her children grew older, Catherine worked part time in the cafeteria of Shaker High School and as a part time waitress at various local diners and restaurants. She also volunteered at the SW Pitts Fire Company in Latham, NY in which she helped with cooking and organizing the local town parades.
Having raised a beautiful family of her own, she found pure joy in the second part of her life as a Grandmother. Having 11 grandchildren, she again was found at the sidelines of many sporting events, graduations, dance recitals, Birthdays, vacations and family dinners. She felt tremendously blessed to also become a Great Grandmother in August of 2011 and went on to have a total of five great grandchildren in which she was able to share in their momentous occasions as well.
Catherine is survived by her children Frank, Joseph and daughter-in-law Mary, Marie and daughter-in-law Jill, stepson Albert Beauregard; grandchildren, Lauren, David, Scott, Anthony, Anastasia, Joseph, Frankie, Matthew, Nicholas, Austin, Victoria and Desiree; great grandchildren, Rocco, Duke, Presley, Elijah and Shiloh. She was preceded in death by her children, Debra Simon (Purritano) and Michael; brothers, Jim, Tom and John Parker; brother-in-law Vincent Puritano and is survived by sister Joan McCarthy; brothers, George and sister-in-law Joanne, Bill Parker and sister-in-law Marge; sisters-in-law Margaret Ann Puritano, Judy Parker, and Mary Parker; brothers-in-law Caesar Mantello and late sister-in-law Leonia, Tony Mantello and sister-in-law Sue; and cousins Betty Foley and Mary Carnevale.
Visitation will be from 4:00-7:00 pm, Tuesday April 16, 2019 at the Dufresne & Cavanaugh Funeral Home, 149 Old Loudon Rd, Latham NY.
Kay's Mass of Christian Burial will be celebrated at 10:00 am on Wednesday April 17, 2019 at St. Ambrose Church, 347 Old Loudon Rd, Latham with Fr. Brian Kelly officiating.
Procession will immediately follow to St. Mary's Cemetery, 79 Brunswick Rd, Troy, NY where she will be laid to rest with her beloved husband Frank.
In lieu of flowers if those would like to make a donation they can consider:Villa Marie Claire Hospice c/o Holy Name Medical Center Foundation 718 Teaneck Road, Teaneck, NJ 07666
For directions, information, to light a memory candle or order flowers for the family please visit www.dufresneandcavanaugh.com.