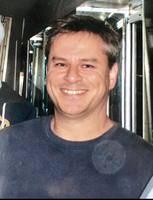 Wayne R. Chiara
WAYNE R. CHIARA
Latham-Wayne R. Chiara, 55, of Latham, NY, passed away unexpectedly on January 21, 2019 in Reims, France.
Wayne was born in Lachine, Montreal on July 3, 1963 to William Chiara and Giselle (Leblanc) Chiara. He graduated with high honors from McGill University in 1986, earning a Bachelor's degree in Chemical Engineering and went on to earn a Master's degree in Business Administration from the University of Houston in 1995. Wayne married his beloved wife, Tammy (Devine) Chiara on July 1, 1989 and the two have shared a beautiful marriage of 29 years. He worked as an engineer for Ferry-Capitain Industries for 21 years. Wayne enjoyed the simpler things in life. He was an avid music lover and Montreal Canadiens hockey fan. His favorite place was relaxing by the water and taking in the beauty of the sights around him. Wayne was a selfless, compassionate man who went out of his way to help all who he encountered.
Wayne is survived by his wife, Tammy, his son, Joseph, his daughter, Jordan, and his sister, Sandra. He is preceded in death by his father, William, his mother, Giselle, and his brother, John.
Relatives and friends are invited to a Celebration of Life on Saturday, February 9, 2019 from 2:00 p.m. to 5:00 p.m. at the Dufresne and Cavanaugh Funeral Home, 149 Old Loudon Road, Latham.
In lieu of flowers, the family asks for you to make a donation to the organization of your choice in Wayne's name.
For directions, information, to light a memory candle for the family please visit www.dufresneandcavanaugh.com.