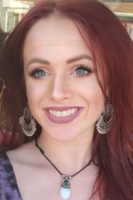 Taylor Paige Farnsworth
TAYLOR PAIGE FARNSWORTH
Albany- Taylor Paige Farnsworth, 22 of Albany, entered into eternal life on Friday, January 25, 2019.
Born in Niskayuna on February 11, 1996, she was the daughter of Matthew Farnsworth and Jennifer (Maher) Farnsworth. Taylor was a 2014 graduate from Shenendehowa High School, and went on to graduate from The College of St. Rose, in 2018, cum laud, with a Bachelor's Degree in Journalism and was awarded the prestigious Patricia Sister Kane Writing Award in Journalism. During her studies, she interned as a reporter at The Schenectady Gazette, where one of her stories was highlighted on the front page, above the fold, which was her proudest moment as a young intern. She was presently employed as a news producer with WTEN in Albany. This marked the beginning of a career she dreamed about and took great pride in. She valued the learning experience, the guidance from superiors, the support from peers and the freedom to engage in her creativity.
Survivors include her mother Jennifer (Greg Nash) Maher Farnsworth, her father Matthew (Julie) Farnsworth, her sister Courtney (Patrick) Farnsworth, brother Jack Farnsworth and sister Erin Farnsworth, her step brother Noah Savastio, step sister Christina Savastio and niece Peyton Mohrie, her maternal grandparents Patricia & Ted Baughn, Paul & Shirley Maher, Elizabeth & Chip Strickland, her paternal grandparents Norma Woelfersheim and Jeanette & Walter Dippo, her maternal uncles Paul Maher, Andrew (Elsa) Maher, paternal uncles Kevin (Ann) Peters, Mark (Jeannette) Peters, Robert (Debbie) Peters and Vincent Farnsworth. Taylor is also survived by many great uncles, great aunts, cousins, friends and her adored cat prudence.
Taylor could be described as "an old soul"—she sought wisdom and knowledge; she yearned for personal and spiritual growth; she was a deep thinker; she avoided mainstream and respected unique individuality; she trusted her intuition, took chances, making herself, and others, proud of what she could accomplish. Taylor had a tremendous kindness and warmth that made everyone around her feel welcome, special, and valued.
Taylor had several passions. Writing, reading, painting, cooking, and exploring, to name a few. But those who knew her best will agree she was most passionate about Johnny Depp. Taylor enjoyed listening to The Rolling Stones and was very proud of her vinyl collection. Her happiest moments were spent being silly with her siblings, going on road trips, exploring quaint artsy towns, or simply reading a good book in a comfortable chair. Taylor was active in and had supported the LGBTQ Community, as well as the Make a Wish Foundation; A charity she spent years volunteering in with her Grandma Pat.
Relatives and friends are invited to call Friday February 1, 2019 from 3:00 p.m. to 6:00 p.m.at the Dufresne & Cavanaugh Funeral Home, 149 Old Loudon Road, Latham.
In lieu of flowers, the family is asking for you to make a donation to the organization of your choice in Taylors name.
For directions, information, to light a memory candle or order flowers for the family please visit www.dufresneandcavanaugh.com.