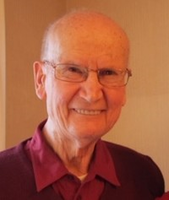 John Charles Carvill
JOHN CHARLES CARVILL
Latham-John Charles Carvill, 93 of Latham, beloved husband of the late Ann Regina Dougherty, died Saturday January 19, 2019 at Eddy Memorial Geriatric Center, in Troy.
He was the father of John W. (Nanci) Carvill and the late Ann Blodgett. He was the best grandfather to his only grandson Kelly Christopher "KC" Carvill and later to KC's fiancée Sarah Minguela and her daughter Mabel Blodgett. He was also the dearest Uncle Jack to Elaine St. Pierre, Suzanne Cobb, Marielle Labonte, and Katherine Turcotte as well as lifelong friend to Jackie Tweedie and his family.
Born in Albany, on August 21, 1925 in Colonie and he never left the area. He was the son of the late William and late Catherine (Webster) Carvill. He was the Purchasing Agent with Albany Felt Company in Menands for over 38 years. John served in the United States Navy during World War II from 1942 until 1944. He was an active member of the Latham Masonic Temple serving as Worshipful Master and District Deputy. After retirement John became the President of the International Lilac Society for 2 years and was a passionate gardener growing vegetables and flowers alike. John was active in Calvary United Methodist Church and he and Ann were active in both the Prime Time Players Club and the Young at Heart Social Club. He always looked out for his fellow neighbors, helping numerous people in his life in many ways. John was a great leader and seemed to be chosen to lead whatever club he joined, too numerous to count. He looked after his family very well and was loved by all.
A funeral service will be held on Wednesday January 30, 2019 at 4:00 p.m. in Calvary United Methodist Church Belle Avenue and Ridge Place in Latham with Rev. Gordon Drake officiating. Relatives and friends are invited and may call Wednesday at the church from 3:00 p.m. to 4:00 p.m. prior to the service.
Interment will be at the convenience of the family with his beloved wife in Memory Gardens in Colonie.
The family requests no flowers and donations in memory of John to the charity of one's choice.
For directions, information, to light a memory candle for the family please visit www.dufresneandcavanaugh.com.