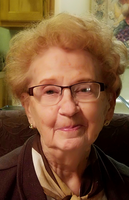 Marian E. Tribley
MARIAN E. TRIBLEY
Colonie- Marian E. Tribley, 90 of Colonie, passed away peacefully on January 14, 2019 at her home in the Beltrone Living Center.
Born September 10, 1928 in Latham, she was the daughter of the late Eugene and Hazel (VanWie) Gott.
Marian worked as Principal Account Clerk for the Town of Colonie, retiring in 2009. She was a volunteer for the Colonie Senior Service Center and a member of the Colonie Senior Citizens Club. Marian was also a member of Calvary United Methodist Church in Latham.
Marian is survived by her children, Garry (Diane) Tribley, Diane Murphy, Lisa (Robert) Upton, her 11 cherished grandchildren, Robert (Alison) Tribley, Kimberly (Garrett Canfield) Larry (Karen Schanbacher) Kozlowski, Jeremiah Murphy, Scott Male, Charlie (Jennifer) Male, Mackenzie (Shawn) McGraw, Jordan, Cortney, and Drew Briggs, and Robert Upton, her adored great-grandchildren Barley Kozlowski, Kylee Schanbacher, Gavin and Lauren Tribley, Matthew and Megan Male, Haleigh and Maura McGraw. She is also survived by many nieces and nephews.
She is predeceased by her daughter, Susan Male, and her sisters, Ariele Bomboy and Katherine Hoffman.
Relatives and friends are invited and may call on Saturday January 19, 2019 from 12:00 noon til 1:30 p.m. at the Dufresne & Cavanaugh Funeral Home, 149 Old Loudon Rd., Latham with a service to be held at 1:30 p.m.
In lieu of flowers, memorial contributions can be made to Colonie Senior Resource Department, 6 Winners Circle, Albany, NY 12205.
For directions, information or to light a memory candle for the family please visit www.dufresneandcavanaugh.com.