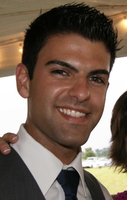 Michael Joseph Caponera
MICHAEL JOSEPH CAPONERA
Columbia South Carolina-Michael J. Caponera, 28, died suddenly on Wednesday, January 2, 2019, while on a business trip in Charleston, SC. Michael was born on November 30, 1990 in Niskayuna, NY, the son of Ronald J. Caponera and the late Susan A. Caponera.
He grew up in Latham, and graduated from Shaker High School in 2009. Michael attended the University of South Carolina where he earned a Bachelor of Science in Electrical and Electronics Engineering; graduating in 2014. After graduating college he was employed as an engineer with the Virgil C. Summer Nuclear Generating Station. Later he began working with EECO in Columbia and was their Automation Project Manager until his death. Michael loved South Carolina, and created a wonderful home and life alongside his fiancé; Jonathan Wade. He also deeply loved his dog Niko and cat Cody. He loved tinkering with new technology, and was an expert at teaching his family to do so as well. Life was meant to be experienced for Michael, and so he enjoyed doing new things to the fullest. Michael exuded kindness to those he met, and was a bright light in the lives of all his many family members and friends. Survivors in addition to his father (Ronald) and fiancé (Jonathan) include his brother, Nick (Shannon) Caponera, and his niece Cora Caponera of Vista, Calif. He is survived by many cousins, aunts, uncles, and dear friends. Michael was predeceased by his mother, Susan Caponera in 2017 and his brother Timothy Caponera in 1988.
Funeral services will be held on Tuesday, January 8, at 10:00 a.m. in the Dufresne & Cavanaugh Funeral Home, 149 Old Loudon Road, Latham.
Relatives and friends are invited and may call Monday, January 7, from 4:00 – 7:00 p.m. at the Dufresne & Cavanaugh Funeral Home 149 Old Loudon Road Latham, NY 12110
Interment will be at a later date.
Contributions may be made to the Friends of Shaker Robotics 445 Watervliet-Shaker Road Latham, NY 12110
For directions, information, to light a memory candle or order flowers for the family please visit www.dufresneandcavanaugh.com.