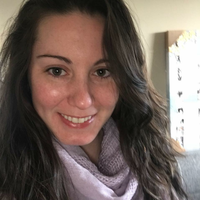 Jessica Veronica Juron
JESSICA VERONICA JURON
Latham-Jessica Veronica Juron, age 30, of Latham, unexpectantly entered into eternal life on Monday, December 31, 2018 at Albany Memorial Hospital.
Born in Albany, NY, on January 23, 1988, she was the daughter of Christine A. (O'Malley) Juron of Maryland and her father; the late Douglas and Kathleen(step mom) Juron of Virginia.
Survivors in addition to her mother include her brother Michael D. (Leah) Juron and her four adored nephews of Maryland. Jessica was predeceased by her brother Lt. Nicolas J. Juron.
Jessica graduated from Towson University in Baltimore, Maryland; earned her M.A. Degree from New York University in Social Work and was a respected employee for The Children's Aide Society in New York City for many years before relocating to Upstate NY.
Jessica found her passion as an advocate for children and families in strengthening family bonds. She was a crusader in helping families navigate the complexities in the adoption process. According to her family, friends and co-workers, Jessica's love of children extended beyond the boundaries. She took great pride in finding ways to help children understand love in difficult situations through arts and crafts, and giving of her time any way she could.
Once Jessica returned to upstate NY she enjoyed and loved exploring all that the Adirondacks had to offer with her best friend Ryan and his children. "A family doesn't need to be perfect; it just needs to be united" would be Jessica's motto for life.
To continue her vision, Jessica's family requests any donations in memory of Jessica, be made to St. Jude's Research Hospital or Big Brothers Big Sisters of New York City.
Funeral Services will be private at the convenience of the family from the Dufresne & Cavanaugh Funeral Home in Latham.
For more information or to light a memory candle for the family please visit www.dufresneandcavanaugh.com.