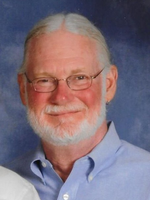 James A. Sanford
JAMES A. SANFORD
Clifton Park-James ("Jim" or "Jamie") Alfred Sanford, 66 of Clifton Park and Tybee Island, Georgia beloved husband of Kathleen Fitzpatrick Sanford, entered into eternal life on Tuesday, January 1, 2019 at his Clifton Park home. Jim also considered himself a part-time resident of Rockport, MA. He was a communicant of Our Lady of the Assumption Church in Latham.
Born in Troy, on August 20, 1952, he was the son of the late Alfred and the late Elizabeth (Rourke) Sanford. He received his BS degree in Civil Engineering from R.P.I. in 1974. Jim was employed by the New York State Department of Environmental Conservation as an Environmental Engineer for over 30 years retiring in 2007.
He was known as "Pirate Uncle Jim" to his nieces and as "St. Nicholas" every December to the parishioners of Our Lady of the Assumption in Latham and St. Edward the Confessor in Clifton Park. He was a member of National Maritime Historical Society and Capital District Jeep Wrangler.
Survivors include his beloved wife Kathleen F. Sanford of Clifton Park, his loving sister Lisa Sanford and brother Christopher Sanford, his cousin and best friend Thomas (Bernice) Doring, sister-in-law Gail (John) Pulliam, brother-in-law Michael (Melissa) Fitzpatrick, nieces Blaine and Emma Pulliam and his cherished coonhounds Grania and Tristan.
Jim was predeceased by best friend Steve Mineo.
A Mass of Christian Burial will be celebrated on Saturday January 5, 2019 at 11:00 am in Our Lady of the Assumption Church, 498 Watervliet-Shaker Road, Latham with Rev. Geoffrey Burke officiating.
Relatives and friends are invited to call Friday from 4:00-7:00 pm at the Dufresne & Cavanaugh Funeral Home, Ltd., 149 Old Loudon Road, Latham, NY.
Interment will be in St. Joseph's Cemetery in Troy.
In lieu of flowers Kathy requests that you honor Jim's memory next time you are on an ocean beach by slowing down to notice the color and texture of the sand, the sizes and shapes of all the shorebirds and seashells, and the variety of ships and sails in the nearby channel or on the far horizon. For those moved to make a donation please consider Our Lady of the Assumption Memorial Fund 498 Watervliet-Shaker Rd. Latham, NY 12110, Captain Community Human Services, 5 Municipal Plaza Suite 3 Clifton Park, NY 12065 or Animal Protective Foundation, 53 Maple Avenue Glenville, NY 12302
For directions, information, to light a memory candle or order flowers for the family please visit www.dufresneandcavanaugh.com.