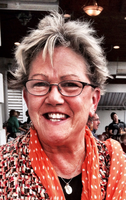 Mary C. Crowley
MARY CLARK CROWLEY
Nassau- Mary Clark Crowley, 65 of Nassau, entered into eternal life on Saturday, December 29, 2018 at Albany Medical Center with her loving family at her side.
Born in Rochester, on December 2, 1953, she was the daughter of the late Frederick R. and Anne (Murray) Clark. Mary was an Administrative Assistant, with the NYS Department of Labor for many years. Mary had a love of knitting, golf, swimming and the outdoors. She thoroughly enjoyed her membership at the YMCA and Library. However, her greatest joy in life were her three children.
Survivors include her cherished children Brian Patrick (Lauren) Crowley, Danielle (Matthew) Reilly and Timothy Andrew (Rebekka Brown) Crowley, her brother Stephen R. (Michelle) Clark, her sisters Cindy (Ab) Hessberg and Pam (Joe) Clemente, her sisters-in-law Pam Clark and Christina Clark. Mary is also survived by several nieces, nephews, grand nieces and grand nephews as well as many friends and loved ones.
Mary was predeceased by her brothers Paul Clark and Doug Clark.
A Mass of Christian burial will be celebrated on Wednesday January 2, 2019 at 12:00 pm in St. Pius X Church, 23 Crumitie Road, Loudonville with Rev. James Walsh officiating.
Relatives and friends are invited and may call Wednesday January 2, 2019 from 9:30am-11:00 am at the Dufresne & Cavanaugh Funeral Home, 149 Old Loudon Road, Latham.
Donations to the William K. Sanford Town Library 629 Albany Shaker Road Loudonville, New York 12211 in memory of Mary Clark Crowley would be appreciated.
For directions, information, to light a memory candle or order flowers for the family please visit www.dufresneandcavanaugh.com.