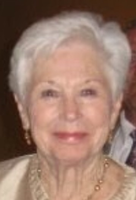 Ellen Mary Halpin
ELLEN MARY HALPIN
Latham-Ellen Mary Halpin, 95, beloved wife of the late Chester J. Halpin, passed away peacefully on Thursday December 27, 2018 at St. Peter's Nursing & Rehabilitation Center with her loving family at her side.
Born July 26, 1923 in Troy, she was the daughter of the late Aloysius Francis and the late Caroline (Cropsey) Dolan. She was a 1942 graduate of Watervliet High School. Ellen married Chester J. Halpin on May 15, 1946 and the two cherished a loving union of 54 years before his passing on July 21, 2000.
Ellen was a Secretary at the Watervliet Arsenal during World War II where she met her beloved Chet. She had also worked as Executive Secretary to the Director of the Albany County Nursing Home for many years during the 1980's and 1990's. Ellen was a proud Irish, Catholic Democrat! She loved politics and served as a Democratic committee person.
Ellen is survived by her children Timothy and Michael Halpin of Latham, Thomas Halpin of Troy, Mary Ellen (Michael) Moore of Slingerlands, and Patricia (H. Paul Thomas) Halpin of Niskayuna, as well as brother-in-laws Howard Halpin and Thomas (Betty) Halpin. She also leaves behind 8 cherished grandchildren Kate, Dan, John, Patrick, and Ryan Halpin, Shannon (Ken) Porter, Erin (Jason) Adams, and Caroline (Matt) Reis, along with eight adored great-grandchildren.
She is predeceased by her beloved son Daniel Halpin, her sister Doris Franklin, brother-in-law Chuck Franklin, and sister-in-law Kay Halpin.
Relatives and friends are invited and may call on Thursday January 3. 2019 from 4:00 to 7:00 p.m. at the Dufresne & Cavanaugh Funeral Home, 149 Old Loudon Road, Latham.
Ellen's Mass of Christian Burial will be celebrated Friday January 4, 2019 at 10:00 a.m. in St. Ambrose Church, 347 Old Loudon Road, Latham.
Interment will take place with her husband Chet in Saratoga National Cemetery, Schuylerville.
The family would like to thank the staff of the St. Peter's Nursing & Rehabilitation Center for the love and care given to Ellen during her stay with them.
In lieu of flowers donations in memory of Ellen can be made to the Father Peter Young Treatment Center
428 Duane Avenue, Schenectady, New York 12304 or St. Peter's Nursing & Rehabilitation Center 301 Hackett Blvd. Albany, NY 12208 attn: Barbara
For directions, information, to light a memory candle or order flowers for the family please visit www.dufresneandcavanaugh.com.