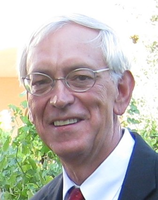 Robert Barshied
ROBERT BARSHIED
Stillwater- Robert "Bob" Barshied of Stillwater passed away peacefully on February 23, 2018 in Palm Coast Florida.
Bob was born on August 22, 1948, the son of the late Willis and Margaret (Garlock) Barshied, Sr.
Bob was a loving father, husband and grandfather. He was a welcomed friend and generous contributor to all he met. Bob obtained his bachelor's degree with honors from Clarkson University and master's degree from Rensselaer Polytechnic Institute. His education allowed him to blend his love of the outdoors and his work. His final position was as Director in the Division of Operations at New York State Department of Environmental Conservation. Bob's desire was to improve the public's interaction with nature through his work. Bob was especially proud of his work preparing the facilities for the 1980 Winter Olympics in Lake Placid for Team USA. He continued his public service as a member of the Stillwater School Board, Chairman of the Stillwater Planning Board and church board along with various local clubs including the VIP Corvette Club. Bob was an avid sportsman and golfer. He will be missed by all that had the pleasure of knowing him.
He is survived by his beloved wife Kathleen (Couture) Barshied, his son Scott (Joan Gushue) Barshied and brother Willis Barshied Jr., 3 cherished grandchildren Allison & Ryan Holtmann and Case Couture. Bob is also survived by Kathleen's children Cara (William) Holtmann and Craig (Kendra) Couture.
Bob is predeceased by his first wife Penelope (Thompson) Barshied
Relatives and friends are invited and may call on Saturday March 3, 2018 from 1:00-4:00 p.m. at the Dufresne & Cavanaugh Funeral Home, 149 Old Loudon Rd., Latham.
Memorial Services for Bob will be celebrated at 1:30 pm on Sunday March 4 at Liberty Ridge Farm 29 Bevis Rd Schaghticoke NY 12154.
The family requests that in lieu of flowers donations can be made in Bob's memory to St. Jude Children's Hospital or Stillwater Christian Fellowship, 29 Bevis Rd, Schaghticoke, NY 12154.
For directions, information or to light a memory candle for the family please visit www.dufresneandcavanaugh.com.