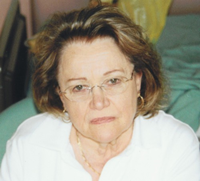 Eugenia Makuch
EUGENIA MAKUCH
Niskayuna- Eugenia (Baran) Makuch, 83 of Niskayuna, beloved wife of the late William Makuch, passed away Wednesday evening, August 2nd, 2017 in the comfort of her home.
Born in the countryside of Berezhany, Ukraine in 1933, Jean and her family were forced to leave the region with the outbreak of WWII. As a little girl, her biggest wish was to attend grammar school, but the need to work and the constantly moving war front made regular school attendance impossible. Despite this, she became a talented seamstress at a very young age. Her family immigrated to the United States in 1947 when she was 13 years old. She initially worked cleaning houses, folding clothes in a laundromat and soon in a shirt factory utilizing her ability to sew. Her perfection as a seamstress drew her to the bridal industry where her social personality, unbelievable work ethic, and strong support from her husband led to four decades of success as the owner of Annette Bridals on Central Avenue. Her expertise has helped thousands of brides find their perfect gown and served several generations of families. Jean accomplished all of this while being one of the most loving moms a child could have, and one of the most generous people you could meet. When she turned 75 she had the energy of a teenager, and no plans to ever retire. Sadly, Alzheimer's disease knows no boundaries and has no mercy.
Jean is predeceased by her husband, William Makuch, and her siblings, Stefania Pieczyrak, Harry Baran, and Myron Baran. Jean is survived by her three children; William (Donna) Makuch of Waxhaw, NC, Robert Makuch of Latham, and Kimberly (Tom) Kotkoskie of Burnt Hills, and her two grandchildren; Anya and Thomas Kotkoskie. Jean is also survived by several loving nieces and nephews.
Relatives and friends are invited and may call on Sunday from 2:00 to 5:00 p.m. at Dufresne & Cavanaugh Funeral Home, 149 Old Loudon Road, Latham with a Parastas service at 4:30 pm.
The liturgy will be celebrated on Monday August 7, 2017 at 10:00 am at St. Nicholas Ukrainian Catholic Church, 2410 4th Avenue, Watervliet with Fr. Mikhail Myshchuk officiating
In lieu of flowers the family requests donations be made to the Alzheimer's Association (alz.org) or the Our Lady of Perpetual Help Society of St. Nicholas Ukrainian Catholic Church.
We love you Mom and will always miss you!
Interment will take place next to her husband William in St. Nicholas Ukrainian Cemetery, Colonie.
For directions, information, to light a memory candle or order flowers for the family please visit www.dufresneandcavanaugh.com.