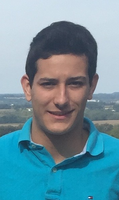 Samual James Nichols
SAMUAL JAMES NICHOLS
Latham- Samual J. Nichols of Latham, NY, beloved and cherished son of Timothy D. Nichols and Marlis Y. Bouchard-Nichols, and incredible big-brother to Erin M. Nichols, passed away suddenly on Saturday, May 6th while at SUNY Geneseo.
Sam was a beautiful and gentle spirit who brightened the lives of all who came in contact with him. A 2015 graduate of Shaker High School, Sam was a sophomore at SUNY Geneseo where he was studying physics. His beautiful smile, outgoing and generous spirit and kind heart made the world a more beautiful place. His passion for music, love of family and friends and compassion for others knew no bounds. He loved music and playing his guitar, discovering new songs and sounds and was always eager to share in his new musical discovers. Sam loved to sing and enjoyed making music with acapella groups in high school and in college. Sam was very close to his sister Erin and he loved spending time with her and her many friends whenever he was home. It is painful to imagine a world without him.
In addition to his parents and his sister, Sam is also survived by his maternal grandmother Jeanette Bouchard of Bayside, NY, and his grandfather Roland Bouchard of Rhode Island. He is also survived by his Aunt Suzann and Uncle Al (Doczy) from Long Island, NY and his Aunts Suzanne Fay of San Bernardino, California, Penelope Raco of Latham, NY, and Tessa MacDuff, of Waterford, NY and his uncles, Gordon E. Nichols, Jr. of Niskayuna, NY, and Paul D. Nichols, of Albany, NY. He is also survived by many amazing cousins. He is predeceased by his paternal grandparents Gordon E. Nichols, Sr. and Shirley M. Nichols and his aunt, Linda K. Nichols.
The family wishes to conduct two services for Sam, a brief service to be held at the Dufresne & Cavanaugh Funeral Home, 149 Old Loudon Rd., Latham on Thursday, May 11th at 10AM and a second memorial service to celebrate this beautiful soul's life at a later date and time this summer. In addition, all who knew Sam are invited to share any special memories, pictures, and videos of Sam on his Facebook page where already dozens of friends have shared beautiful words of love and support and memories.
In lieu of flowers, please consider giving a contribution in Sam's name to any of the following organizations that represented Sam's character and values: for his love of animals of all kinds, the Mohawk-Hudson Humane Society; for his passion for music, the North Colonie Friends of Music; for his deep sense of justice for all, the American Civil Liberties Union; to any organization that supports the rights and well-being of LBGTQ individuals; for his support for women's reproductive rights and access to health care, Planned Parenthood; to Bernie Sanders, who's campaign for President was a great inspiration to Sam; and, of course, any similar organization of your choice.
The family especially wishes to thank Livingston County Sheriff Thomas Dougherty, his officers and first responders for their heroic efforts in responding to this tragedy and for their compassion and support in its aftermath. We are forever grateful.
For directions, information, to light a memory candle or order flowers for the family please visit www.dufresneandcavanaugh.com.