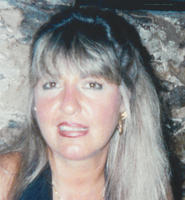 Barbara J. Ernest
BARBARA J. ERNEST
Latham- Barbara J. Daley Ernest passed away peacefully on April 19, 2017 at St Peters Hospital after a long battle with cancer.
Barbara was born February 28, 1949 to Margaret and the late James Daley. She was a 1967 graduate of Shaker High School. Barbara will be remembered by her talent with interior design and the love of art and gardening. She was known for the way she cherished "Tay"; her granddaughter as well as Max and Muggs her doggies that she is with now.
She is survived by her mother Margaret Grieco, her daughter Meegan Monroe and granddaughter Taylor Compton. She is also survived by her 2 brothers: Dennis (Nancy) Kruegler and Gerald (Gail) Kruegler and 1 sister Diane Conlin and several nieces and nephews.
The family would like to say thank you to all the nurses and doctors and health aides that helped take care of her.
If you would like to send a memorial in Barbara's name please send to the local American Cancer Society.
Services will be private and at the convenience of the family at a later date
For information or to light a memory candle for the family please visit www.dufresneandcavanaugh.com.