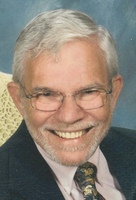 Harry "Pep" Paul Keefe
HARRY "PEP" P. KEEFE
Colonie - Harry "Pep" P. Keefe, 77 of Colonie passed away peacefully surrounded by the love of his family on Friday, April 28, 2017 at St. Peter's Hospital, in Albany.
Born in Cohoes on September 7, 1939, he was the son of the late James T. and Monica (Wood) Keefe. He graduated from Keveny Memorial Academy and attended SUNY Albany. He was married to the former Kristin P. Brennan on October 25, 1985 and shared a blessed union of 31 years together.
Pep was a Labor Relations Officer and Recruiter for the Office of the State Comptroller in Albany for 37 ½ years, retiring in 1995. He was a member of the Retired Public Employees Association and served on the steering committee. He was also a member of the Colonie Republican Committee, International Brotherhood of Magicians where he was Past President, Christian Science Student, Society of American Magicians and Sons of the American Legion. He was a former pantry worker at Christ Our Light Food Pantry, Election Volunteer for the South Colonie School Board as well as a Driver, Safety Instructor and Trainer for the AARP 55 Alive program. Pep was a member of the Hendrick Hudson Male Chorus and Keys to Fun Student. He also proudly served with the Army National Guard for 6 years.
In addition to his beloved wife Kristin, he is survived by his six loving children: Louis (Yolanda) Keefe of San Antonio, TX, Mary Anne (George) Nadel of Rexford, Kathleen (Jeff) Mann of Cohoes, James T. (Mary) Keefe of Rexford, Christopher Rice of Cohoes and John F. (Patricia) Rice of Latham as well as his eight cherished grandchildren: Christopher P. (Kynthia) Rice, Victoria L. and Meaghan E. Rice, Olivia R. and Jacob H. Nadel, Abigail K. Keefe and Joseph Rice and Miguel A. Keefe. He is also survived by his Sister: Ellen (Richard) Goodenow of Medusa, his Aunt: Rosemary Keefe of Michigan and Mother in Law Helen M. Brennan of Troy as well as the Brennan family and we were also blessed with many dear cousins and friends too numerous to mention.
Pep is predeceased by his loving Daughter: Sheila Keefe Mai, his Brother: James Keefe and Father in Law: William Brennan.
The family wishes to thank Dr. Alexandros Karavas and the wonderful and caring, compassionate nursing staff of St. Peters Hospital as well as the Cardiac unit and Cardiac Acute ICU during his brief illness.
Relatives and friends are invited to a memorial gathering on Thursday May 4, 2017 from 9:30-11:00 am at Christ Our Light Catholic Church, 1 Maria Drive, Loudonville. Pep's memorial mass will be celebrated at 11:00 am at the conclusion of the gathering with Fr. Alan Jupin officiating.
In lieu of flowers memorial contributions can be made in Pep's memory to the Christ Our Light Food Pantry, 1 Maria Drive, Loudonville, NY 12211.
For information, to light a memory candle for the family please visit www.dufresneandcavanaugh.com.