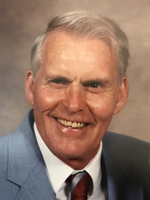 Arthur C. DeGarmo
ARTHUR C. DEGARMO
Colonie- Arthur C. DeGarmo, 92, left this life on April 24, 2017 with his daughters, Marguerite and Shelley at his side. Arthur, (Chance) was born to Arthur and Mabel (Hamm) DeGarmo in Saratoga Springs on 3/24/25. He was predeceased by his wife of 64 years, Etta Marie DeGarmo in 2012.
He is survived by his daughters, Marguerite (Richard) Massey of Billerica, Mass, Shelley Murphy and her husband, Forrest Randy Morehouse of South Glens Falls, NY, Linda (Larry) Blue of Lenoir City, Tenn. and Suzanne Sheehan of Cohoes. He is also survived by eight grandchildren, Amanda (Matt) Lee of Burlington, Mass., Carolyn Massey of Billerica, Mass., Sam Murphy of Saratoga Springs, NY, Megan (Monroe) Johnson of Conway, SC, Rachel (Randall) Horne of Marshville, NC, Hunter Blue of Lenoir City, Tenn, Karissa Clairmont of Cohoes and Devin Sheehan of Cohoes. Arthur leaves five great grandchildren; Kendall and Jared Lee, Bentleigh and Mason Johnson and Lucas Horne. He is survived by his sister, Anne (Jay) VanVranken of Stillwater, NY. He was predeceased by his brothers Lindley DeGarmo of Pine Plains, NY and Herbert DeGarmo of Schuylerville. He is also survived by many loving nieces and nephews. Arthur graduated from Schuylerville High School in 1942 and by the spring of 1943, was enlisted in the United States Army. He was a proud member of the 100th Infantry Division, known as the "Sons of Bitche" and served bravely on the Maginot Line. He was strongly bonded to the men of the Division, and was privileged to attend a reunion in 2004.
At the conclusion of his military service, Arthur returned to Schuylerville and began working with the local 4H inspecting victory gardens. It was there that he met his wife, Etta. Together they moved to Boght Corners where they made their home and raised their family. He was engaged in his community and was an active member of the Boght Volunteer Fire Department for over 50 years. He began as a volunteer firefighter, served as treasurer and ended his service as a Fire Commissioner. He was a member of the Latham Post of the Veterans of Foreign Wars and, among other activities, devoted many hours to the collection and respectful retirement of worn American Flags. Arthur worked at AT&T on State Street in Albany, NY for over 40 years, retiring in 1989. He maintained contact with his friends and colleagues and enjoyed opportunities to spend time with them.
Arthur was a gardener and was able to plant and grow anything from vegetables to berries to flowers of all kinds. He loved to share his harvest with neighbors and friends and instilled a love and respect for nature in his children and grandchildren. He took great joy in the accomplishments and exploits of his children, grandchildren, great grandchildren, nieces and nephews. He worked hard and took satisfaction in a job well done. In the words of his nephew, Lewis DeGarmo, "Uncle Chance taught us about the joy and appreciation of hard work, responsibility and family."
The family will receive friends from 4:00pm to 6:00pm on Wednesday, May 3, 2012 at the Dufresne & Cavanaugh Funeral Home, 149 Old Loudon Road, Latham followed by a service at 6:00pm with Rev. Dr. Lindley DeGarmo officiating. Inurnment will be at Saratoga National Cemetery, Schuylerville, NY on Thursday, May, 4, 2017 at 1:00pm.. Due to cemetery regulations, in lieu of flowers, the family asks that Arthur be remembered with donations to the American Heart Association 440 New Karner Rd. Albany, NY 12205
For directions, information, to light a memory candle or order flowers for the family please visit www.dufresneandcavanaugh.com.