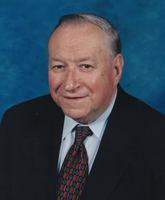 William J. Hoblock
WILLIAM J. HOBLOCK
Latham- William J. Hoblock, 82, passed away peacefully on April 10, 2017, at St. Peter's Hospital with his family by his side after a short illness.
Bill was born on August 1, 1934 in Cohoes Hospital. Bill was the son of Sophia (Petregal) Hoblock and John J. Hoblock. Bill graduated from East High School in Rochester, New York, 1952, received a Bachelor of Science degree from the School of Industrial and Labor Relations at Cornell University, 1957, and a Juris Doctor degree from Albany Law School, 1960. He was admitted to practice law in New York State in 1961.
Bill was a true scholar of the law and practiced for over 50 years as a member of the law firm D'Agostino, Hoblock, Flannery and Jeram. He also served as Associate Counsel of the New York State Legislative Bill Drafting Commission. Bill proudly served as a member of the Albany Law School Board of Trustees and President of the National Alumni Council of Albany Law School. A Charter Member and Officer of Colonie Elks Lodge 2192, Bill served as Exalted Ruler in 1963 and 1964 and was Justice of the Subordinate Forum until the time of his death. He was also a member of the Latham-Colonie Knights of Columbus Council 3394. Bill was a longtime member of the Albany County Bar Association, New York State Bar Association and American Bar Association, as well as a member of the bar of the United States District Court for the Northern District of New York. Active in politics his entire life, Bill was a Committee Member and Secretary of the Town of Colonie Republican Committee for decades.
Bill owned various standardbred and thoroughbred race horses over the years and was a lifelong devotee of the historic Saratoga Race Course. Bill was a tireless supporter of the St. Louis Cardinals baseball team. No one loved their "High Flyin' Redbirds" quite like Bill. Bill once said that if he knew the law like he knew baseball, he would be on the United States Supreme Court. While Bill went into his office daily up until the time of his death, his family suspected that it was only to find a quiet place to read the New York Post. Always one with a one-liner or a corny joke, Bill truly had a heart of gold and literally could not bring himself to say an unpleasant word about anyone. Bill was a man of deep faith. His life's dedication to the law and politics was founded in his inherent character to help his fellow man and better his community. While Bill will be missed by many, he will especially be missed at his grandchildren's games, plays and recitals. He rarely missed one.
Bill is survived by his wife Judyth M. (Bonesteel) Hoblock; his three loving children and their spouses, Susan deVoe (Stuart), William M. Hoblock (Kristin), Kristen Hoblock (Denise); and his six beautiful grandchildren who adored him, Grace (15), Katie (13), Claire (13), Jack (12), Peyton (9) and Lauren (7).
.
Catholic Funeral Services will be celebrated on Thursday April 13, 2017 at 9:30 am at St. Pius X Church, 23 Crumitie Rd., Loudonville with Fr. James Walsh officiating.
Relatives and friends are invited and may call on Wednesday April 12, 2017 from 3:00-7:00 pm at the Dufresne & Cavanaugh Funeral Home, 149 Old Loudon Rd., Latham
In lieu of flowers memorial contributions can be made in Bill's memory to the St. Peters Hospital Foundation, 310 S. Manning Blvd., Albany NY 12208
For directions, information, to light a memory candle or order flowers for the family please visit www.dufresneandcavanaugh.com.