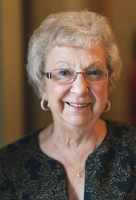 Patricia L. Potts
PATRICIA L. POTTS
Latham - Patricia L. Potts, 87 of Latham, passed away peacefully on Saturday April 1, 2017 at Memorial Hospital in Albany with her loving family by her side.
Born in Troy on July 28, 1929, she was the daughter of the late Charles and Theresa (Verstraeten) Peetz She was a 1947 graduate of Lansingburgh High School. Pat was married to William J. Potts on October 23, 1954 and the two shared a blessed union of love and devotion of 28 years prior to his passing in 1982
Pat was employed with the NYS Department of Taxation & Finance in Albany, retiring in 1985 after 35 years of service. She was a volunteer at Albany Memorial Hospital for many years where she was also the former President and Treasurer of the Albany Memorial Auxiliary. Pat was a communicant of Our Lady of the Assumption Church in Latham.
She is survived by her sister: Marie Hammarstrom of Latham as well as her nieces and nephews; Joan Hagglove, William (Barbara) Hammarstrom, Carla Letteer, Mary Grayce (Pat) Morrison, Linda Anderson, Tom (Alison) Wright, Doug Wright, Mary (George) Hahn, Peggy (Bruce) Lucier, Joanne (Steve) Coonradt and Barbara (Rick) Rizzolo and numerous great nieces and nephews.
Pat is predeceased by her sisters; Frances Hart and Dorothy Wright.
Relatives and friends are invited and may call on Tuesday April 4, 2017 from 4:00-7:00 pm at the Dufresne & Cavanaugh Funeral Home, 149 Old Loudon Rd., Latham
Her Mass of Christian Burial will be celebrated on Wednesday April 5 at 10:00 am at Our Lady of the Assumption Church, 498 Watervliet-Shaker Road, Latham with Fr. Geoffrey Burke officiating.
In lieu of flowers donations can be made to the charity of one's choice in Pat's memory.
Interment will take place next to her husband in Oakwood Cemetery, Troy
For directions, information, to light a memory candle or order flowers for the family please visit www.dufresneandcavanaugh.com.