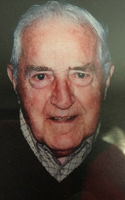 Raymond J. Blair
RAYMOND J. BLAIR
Latham- Raymond J. Blair (96), the son of Wilfred and Ella (Demurs) Blair, passed away early Friday morning March 24, 2017, after spending time with his grandchildren. Raised in Lansingburgh, Ray attended St. Augustine's School, Lansingburgh High, and Siena College. While at Lansingburgh High he earned the nickname "Shorty Blair," excelling in sports. He was selected for the All-City football and basketball teams for three consecutive years and was selected as the outstanding football player in the Tri-City. A survivor of WWII, he served 49 months in the 4th Infantry Division, 22nd Battalion landing on Omaha Beach on D-Day also seeing service in England, Belgium and Germany. Staff Sgt. Blair was wounded twice and holds the Purple Heart with one cluster, Distinguished Unit Badge E.A.M.E.T. Ribbon, 4 Bronze Service Stars and Combat Infantryman Badge.
Ray was an avid golfer and a member at the Troy Country Club. In the community, Ray was a Former Treasurer for Troy Country Club, Treasurer of the Latham Kiwanis, former President of the Blue Creek School P.T.A., Former Director of the Troy Boy's Club, and a long time communicant of Our Lady of the Assumption Church. Ray held several positions at Bendix during his 42 years of employment. Upon retirement, he enjoyed annual trips to Florida with his wife and many friends, where he golfed and played cards.
Ray was predeceased by his beloved wife of 67 years, Geraldine; his dear son Gary (Christine) Blair; his cherished granddaughter Cathryn Blair; and his eleven siblings, Rita, Eva, Edna, Bill, Jeanette, Leo, Theresa, Shirley, Donald, Gerald and Francis. His dry sense of humor and pensive advice will be greatly missed by his family. Ray is survived by his sons Dennis (Cathy) Blair of Groton, MA and Craig (Jenny) Blair of Latham, NY; grandchildren Jennifer (John) Callaghan, Josh (Misty LeBrake) Blair, Jill (Jake) Schaub, and Meghan (Joey) O'Rourke; and great-grandchildren, Jack, Emily, Daniel, James, Brendan, Savannah, Ryan and Benjamin.
Ray's Memorial Mass will be celebrated on April 22, 2017 at 10:00 am at Our Lady of the Assumption Church in Latham with Fr. Geoffrey Burke officiating.
In lieu of flowers, donations can be made to The Cathryn Blair Memorial Scholarship Fund, c/o CapCom Federal Credit Union, 4 Winners Circle, Albany, NY 12205.
For information or to light a memory candle for the family please visit www.dufresneandcavanaugh.com.