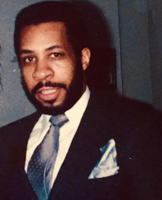 Lucious Gregory Johnakin
In Memory of
Lucious Gregory Johnakin
1947 to 2018
The Angels of Mercy escorted Gregory to the beginning of his journey into eternal rest on April 5, 2018.
He was 70 years old.
Lucious Gregory Johnakin, endearingly known as Gee or Pecker, a lifelong resident of Albany, graduated from Albany High School. He is a father of two daughters, a grandfather of three boys and a Godfather. He was also recently blessed with three great grandchildren.
A loyal connoisseur of all that is art, Gregory was an impressive sketch artist, a keen eyed photographer, an amateur boxer and a collector of music. His diverse collection of comic books included some sought after classics.
Those who knew Gee, knew he took pride in his appearance, both inside and out. To see Gregory was to see the latest styles in male runway fashion. He appreciated the finest clothes he could get his hands on. Even his casual attire was high fashion. However, his exterior was just as important to him as his interior. Gee was a health nut who watched what he ate and exercised to retain his boxing physique, for many years.
All of his hobbies couldn't compare to the adoration Gregory had for the children in his family. He was always taking them out for ice cream, to the park, the circus and other locations that made ideal backdrops for the countless photographs he would shoot. Whether it was to visit the Easter Bunny, dressing up as McGruff on Halloween or Santa Clause on Christmas, Gee took pleasure in making children smile. Christmas was one of his favorite holidays because loved to lavish his baby girls with lots of gifts.
Lucious Gregory Johnakin left his family and friends with memories to last a lifetime.
Lucious Gregory is survived by siblings; Peggy Hall, Pamela Adams, and Kimberly Lyons (her husband is Gregory Carl Lyons). Second Cousins; Norma Chapman and Steven J. Smith Sr.
Predeceased by his parents Lucious and Elizabeth. Predeceased by sisters; Sharron Mackey and Patricia Cohen.
With heavy hearts this is sadly submitted by, Celeste & Family.
A graveside service will be held on Tuesday, April 17, 2018 at 2:00 P. M. at the Albany Rural Cemetery, Menands, NY, near the South Gate entrance. Rev. Alphonso Meadows, Officiating
There will be no repass.
Arrangements have been entrusted to:
Dufresne & Cavanaugh Funeral Home of Latham, NY.
Please add your condolences by signing the Gregory's online guest book.visit www.dufresneandcavanaugh.com.