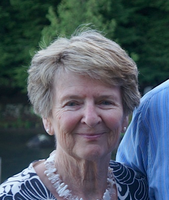 Lena Veronica Rose (Marzello) Tabner
LENA VERONICA MARZELLO TABNER
Latham- Lena (Lee) Veronica Marzello Tabner, 92, died Wednesday, March 28, 2018 as a result of complications from a stroke. Born on March 19, 1926 in Howes Cave, New York, she was the daughter of the late Angelo and Bambi Calisante Marzello.
Lee moved with her family to Menands as a young girl. She graduated from Cathedral Academy in 1944 and from Memorial Hospital School of Nursing in 1946. After graduating, Lee used her nursing degree to work and travel throughout the United States. Lee worked as a nurse until 1954 and then spent many years as the nurse for the neighborhood children. The joy of Lee's life was raising her four children, sharing milestones with them, and summer days together at Lake George over four decades. Lee later returned to nursing and held a variety of positions. Lee also enjoyed her weekly tennis games, traveling, dancing, and attending movies and the theatre. Her passion was for bridge; she achieved Life Master status and despite declining vision, played in a number of games right up until the time she suffered her stroke.
Lee is survived by her loving husband of 64 years, John W. Tabner, her children, Lisa T. Lauroesch and her husband Jack, of Bethesda, MD, James Tabner of Acton, MA, Jody Tabner Thayer and her husband Brad, of Chevy Chase, MD, and Kate Tabner and her husband Michael Boardman, of Greenwich, CT; her nine grandchildren, Jennifer, Molly, Dylan, Carly, Emma, Samantha, Matthew, Nicholas and Walker; and numerous nieces, nephews, great-nieces, and great-nephews. In addition to her parents, Lee was predeceased by her sisters, Mary Fabere and Phyllis Picotte, and her brother, Capt. Vincent J. Marzello, USMC
A Memorial Mass will be celebrated on Saturday, May 12, 2018 at 11:00 am at Our Lady of the Assumption Church 498 Watervliet Shaker Rd. Latham. Friends may call from 10 a.m. to 11 a.m. at Our Lady of the Assumption prior to the mass.
In lieu of flowers, contributions in Lee's memory may be made to Double H Ranch, 97 Hidden Valley Road, Lake Luzerne, NY 12846.
Lee's family gives thanks to Brenda Bergerson, Lee's devoted companion, for her support and care as well as the staff of Albany Medical Center, Sunnyview Rehabilitation Center, Eddy Heritage House and Eddy Village Green, and also thanks to all of her wonderful friends for their support.
For information or to light a memory candle for the family please visit www.dufresneandcavanaugh.com.