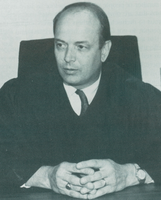 Hon. Nicholas J. Greisler
HON. NICHOLAS J. GREISLER JR.
Colonie- Honorable Nicholas J. Greisler, Jr., 74 of Colonie passed away peacefully on Monday April 2, 2018 at the Our Lady of Mercy Life Center in Guilderland.
Born in Schenectady on July 20, 1943, he was the son of the late Nicholas J. and Bertha (Schneider) Greisler. He was a graduate of St. Bonaventure University and Albany Law School, where he was a member of the Order of the Coif. Nick was married to the former Phyllis N. Smith and shared a blessed union of 40 years prior to her passing in 2011.
Nick was a member of Lemery Greisler LLC in Albany for many years and was formerly with D'Agostino, Hoblock & Greisler LLC. For over 22 years he served as Justice of the Town of Colonie where he was instrumental in developing the Youth Court Program. He was former President of the Albany County Bar Association. Nick enjoyed spending his summers at Peck Lake, where he loved fishing, boating and golf. He served in the U.S. Army National Guard as a medic for several years.
He is survived by his loving daughters Susan Collins, Gretchen (Lawrence) Greisler-Corbett as well as his four cherished grandchildren Jackson Collins, Nicholas Collins, Lucille Corbett and L. Augustus Corbett.
Relatives and friends are invited and may call on Thursday April 5 from 3:00-7:00 p.m. at the Dufresne & Cavanaugh Funeral Home, 149 Old Loudon Rd., Latham.
Funeral services will be celebrated on Friday April 6, 2018 at 12:00 noon at the funeral home with Rev. Wally Plock officiating.
Interment will take place with his wife in St. Joseph's Cemetery, Schenectady.
In lieu of flowers memorial contributions can be made in memory of Honorable Nicholas J. Greisler to the Michael J. Fox Foundation for Parkinson's Research or to Colonie Youth Court.
For directions, information, to light a memory candle or order flowers for the family please visit www.dufresneandcavanaugh.com.