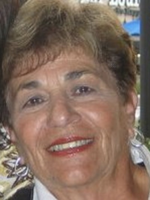 Dorothy Mikhitarian
DOROTHY MIKHITARIAN
Loudonville- Dorothy (Koshgarian) Mikhitarian, 81 of Loudonville passed away suddenly on March 29th at St Peter's Hospital. She was a long time resident of Latham and Loudonville NY.
Born and educated in Troy, she was the daughter of the late Jacob and Yeranik Koshgarian. Dorothy was a graduate of Troy High School and earned her Bachelor degree in Education at SUNY Albany. She taught Business classes at Lansingburgh High School for five years.
Dot and her late husband Harry raised four daughters in Latham and owned and operated Latham Pharmacy for 32 years. Dorothy was the master of large family dinners. A great cook and organized entertainer, she provided our large extended family and friends with many happy memories around the table. Dot is a long time member of Wolfert's Roost Country Club; still swinging and competing this past year. Dot is also known as a tough competitor around the bridge table. Mom took pride in her home and loved planting flowers in the spring. She and Harry also enjoyed many happy years escaping the Northeast cold at their home in Old Hickory in Fort Myers, FL. Dorothy also loved her 10 grandchildren with all her heart, including her furry grandchildren. Nothing brought more of a smile to her face then her grandchildren. She often said, "there's not a bad one in the bunch"!
Dot is predeceased by her husband Harry and her brother Albert Koshgarian. Survivors include her daughters LeeAnne Milnarik, Debbie Mikhitarian-Russell (Steve), Diane Ethier (Med) and Leslie Molloy (Rob). Survivors also include her grandchildren, Raymond, Steph and Gregory Milnarik, Michael, Daniel, Joseph and Meghan Molloy and Maggie, Anna and Matthew Ethier and several sister in laws, nieces & nephews.
Relatives and friends are invited to call on Monday April 2, 2018 from 4:00-7:00 pm at the Dufresne & Cavanaugh Funeral Home, 149 Old Loudon Road, Latham, NY
Funeral services for Dot will be celebrated on Tuesday April 3 at 10:00 am at Calvary United Methodist Church, 15 Ridge Place, Latham.
In lieu of flowers memorial contributions can be made in Dot's memory to the Mohawk Hudson Humane Society, 3 Oakland Ave, Menands, NY 12204
Interment will take place next to her beloved Harry in Albany Rural Cemetery, Menands.
For directions, information or to light a memory candle for the family please visit www.dufresneandcavanaugh.com.