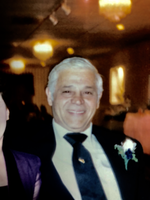 Peter N. Fulgan Jr.
PETER N. FULGAN JR.
Green Island - Peter N. Fulgan Jr., 79 of Green Island passed away peacefully with his loving family by his side on Thursday, February 15, 2018 at Community Hospice at Samaritan Hospital.
Born in Troy on December 23, 1938, he was the son of late Peter Fulgan Sr. and Teresa Fusco Fulgan. Peter proudly served in the United States Coast Guard. He is predeceased by his wife Patricia A. (Swart) Fulgan who passed away on November 2, 2017.
Peter was the owner of Peter N. Fulgan Jr. Plumbing & Heating in Green Island serving the Capital District and especially the elderly for over 40 years. He was a hardworking and old fashioned businessman who signed many "contracts" with a handshake. He loved providing for his family and instilled a strong work ethic in them and he especially enjoyed the many Sunday dinners together. Peter had a very generous heart and gave to many charitable organizations especially Toys for Tots. Peter's true love was his Harley and has been riding since he was 17. He was a member of H.O.G. and attended many Harley events including Americade, Laconia and the 100th Anniversary of Harley Davidson in Milwaukee. Peter loved his camp at Summit Lake in Argyle and the many special times he spent there with his family and friends. He was a former parishioner at St. Joseph's Church in Green Island.
Peter is survived by his loving children Angela (Vic) Simeone, Peter (Gail) Fulgan, Kimberly Comproski, Gina (Adam) Ellenbogen and Toni (Dave) Howard, many loving and devoted grandchildren as well as his dear friends Mary Galuski & Salvatore Corleone. He was predeceased by his twin brother Pasquale "Footsy" Fulgan.
The family would like to thank Dr. Ronald Musto, his staff, Gina Boilard with NYOH and the staff of the 6th floor at Samaritan Hospital for their care and compassion.
"Live to Ride Ride to Live"
Relatives and friends are invited and may call on Monday February 19, 2018 from 4:00-7:00 pm at the Dufresne & Cavanaugh Funeral Home, 149 Old Loudon Rd., Latham.
Funeral services will be celebrated on Tuesday February 20 at 10:00 am at the funeral home with Rev. Nick TeBordo officiating.
In lieu of flowers memorial contributions can be made in Peter's memory to the Colon Cancer Coalition, 5666 Lincoln Dr. Suite 270, Edina, MN 55436.
Interment with full military honors will take place in Saratoga National Cemetery in Schuylerville.
For directions, information or to light a memory candle for the family please visit www.dufresneandcavanaugh.com.