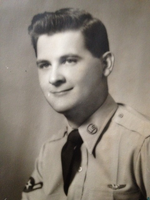 Edward E. Gabrykewicz
EDWARD E. GABRYKEWICZ
Cohoes- Edward E. Gabrykewicz, 85 passed away peacefully on Saturday January 27, 2018 at Eddy Village Green.
Born in Colonie on March 1, 1932, he was the son of the late John and Kazimyra (Sczegda) Gabrykewicz. Ed proudly served in the US Air Force from 1952 to 1960. It was on April 16, 1955 that he married Helen and the two shared a devoted union of over 60 years prior to her passing in July 2015.
Ed was the owner and operator of Gabry's Marine Sales in Colonie for over 38 years. He received the Top Dealer award in 1983 as well as the Regional Sales award in 1987. Also while running his boat business; he was a Bus Driver for the North Colonie School District. Ed loved to fish, snowmobile and hunt. He formed the Riverview Waterfowl Association in Niskayuna and was a member of Holy Trinity Church in Cohoes.
Ed is survived by his nephew: Theodore "Ted" Gabrykewicz of El Paso, TX and many special friends.
He is predeceased by his brother: Thaddeus "Ted" J. Gabrykewicz
Relatives and friends are invited and may call on Thursday February 8, 2018 from 9:30 am - 11:15 am at the Dufresne & Cavanaugh Funeral Home, 149 Old Loudon Rd. Latham.
Ed's Mass of Christian Burial will be celebrated on Thursday February 8 at 12:00 noon at Holy Trinity Church, 122 Vliet Blvd., Cohoes.
Interment will take place in Saratoga National Cemetery, Schuylerville.
For directions, information, to light a memory candle or order flowers for the family please visit www.dufresneandcavanaugh.com.