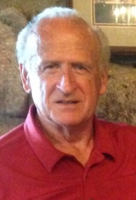 Robert A. Scanlon
ROBERT A. SCANLON SR.
Queensbury- Robert A. Scanlon Sr. of Lake George, New York and Naples, Florida passed away peacefully on January 26, 2018 after a long battle with cancer with his wife by his side.
Bob was born and raised in Albany by James E. Scanlon and Grace Roberts Scanlon along with his brother James J. and sister Linda whom all predeceased him. Bob was a 1959 graduate of Albany High School where he played basketball and upright bass in orchestra.
At a young age Bob fashioned a solid work ethic. He delivered newspapers before and after school, but while working as a "soda jerk" at a Washington Ave. Stewarts Shop, he met the love of his life Elinor M. Weeden. They married in May 1963 and moved to Colonie to start their family. Bob went on to Hudson Valley Community College and then started his career as Draftsman/Project Manager/Mechanical and Electrical Designer for multiple architectural and mechanical engineering firms.
In the early years, Bob played bass guitar in bands on weekends to help support his family and passed down his love of music and the art of singing (not necessarily good) harmony to his sons.
Bob was always willing to lend a hand and offer advice (whether you wanted it or not). He was given the nickname" Wizard" while working at Northway Engineering for his ability to problem solve. Through his words or silence, you knew how he stood on an issue. He was honest and fair.
At the time of his death he was employed by Scott Swenson & Eric Sheffer of Engineered Solutions who he greatly admired and respected for their support during his many battles. It was there that he used his years of experience to travel the state and represent these men on job sites. He could have retired but felt compelled to continue working right up to his final months. As a child, Bob's family enjoyed Rogers Rock, camping on Lake George where he dreamt of one day owning a boat. Never did he imagine that Lake George would become their home for over 20 years. Bob was a lifetime member of Colonie Elks Lodge #2192 where his bands often played. He was also active in bowling and dart leagues.
He bought that boat and along with his in-laws created a tradition of camping and boating almost every weekend sparking his sons love for boating and the lake. It was also in Bolton Landing that Bob and Ellie, known as "PopPop and Ema" were instrumental in helping raise their grandchildren and forming special bonds. Bob Sr. and Bob Jr. started a standing tradition of RV'ing at Dover Raceway with Curt and a great group of guys. His grandson Charlie wishes to continue the tradition and motto," What happens in Dover stays in Dover"
Bob and Ellie moved their RV to their winter home in Naples, Florida where for the last 10 years have become entrenched in the Lake San Marino Resort community enjoying special time with best friends Gloria and Emory Calhoun.
Along with his wife Ellie, Bob leaves behind his sons Robert Jr. and his fiancée Nancy Tielking and her family and Grandson Tyler and Richard and his former wife Lisa and their children Eric, Samantha, and Charles. As well as Brother in law to Bette Weeden, Kay and Brian Hunter, Kathy and Bill Haege, Wes and Kathy Weeden, many nieces and nephews. Bob was also the godfather to Tracy Grimsley Bosko and Jennifer Lawrence Stevens.
Bob was predeceased by his in-laws Wesley Weeden Sr. and Florence Lewis Weeden and also special friends Phil and Ann Weeden and beloved niece Charlotte Hunter Dahle.
A memorial service will be celebrated at on Friday February 2, 2018 at 6:45 p.m. in the Tebbutt Funeral Home 633 Central Avenue with Rev. John Tallman officiating. Calling hours will be Friday from 4:00 p.m. to 6:45 p.m.
In lieu of flowers donations can be sent in Bob's memory to the Church of Saint Sacrament, P.O. Box 1183, Bolton Landing, NY 12814, where a columbarium service will take place in the spring.
Reception and celebration to immediately follow at West Albany Fire Department #2, 36 Osborne Road Colonie, all are invited to attend.
For directions, information, to light a memory candle or order flowers for the family please visit www.dufresneandcavanaugh.com.