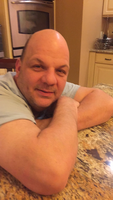 Mark A. Altarac
MARK A. ALTARAC
Colonie- Mark A. Altarac 52, of Colonie died suddenly January 23, 2017 after being stricken at his home.
Born Oct 25, 1965 to Jacob and Patricia (Nesbitt) Altarac, Mark will forever be remembered by his wife Lidia, sons Steven (Anh) and Kenneth, and siblings Anita, Eric (Diana), Tom (Nordica), Kathy (Dave), Donna, Keith (Patty), Laura, Greg (Jen), Estelle (Jerry), Penny, and Curt (Ada). Mark was excited about the expected birth of his new daughter.
Mark's greatest joy was his family, and he loved and cherished every moment with them. He always made time for taking the kids to sporting events near and far, fun family outings, and fine dining experiences. The beloved patriarch, Mark's house was the central location for family gatherings, where he cooked huge wonderful meals, took great pride in guiding his siblings and children, and was revered for his advice on how to grow and do the right thing.
Mark is also remembered as an avid entrepreneur, launching many successful businesses that became important cornerstones of the community, such as the Butcher Block, the Char Pit, Chester's Meats, Affordable Restaurant Equipment, Precision North America, Precision Specialty Contracting, and many others.
Funeral Services will be Saturday January 27, 2018 at 11:00 a.m. in the Dufresne & Cavanaugh Funeral Home 149 Old Loudon Rd. Latham.
Relatives and friends are invited to call at the funeral home on Saturday morning from 9:00 to 11:00 a.m.
Donations to the charity of one's choice in memory of Mark would be appreciated.
For directions, information, to light a memory candle or order flowers for the family please visit www.dufresneandcavanaugh.com.