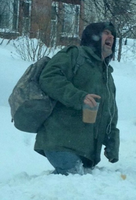 Julius C. Gillman
JULIUS C. GILLMAN
Albany-Julius Charles Gillman, 46 of Albany, died Tuesday, January 16, 2018 at his home in Albany.
Born in Flushing, NY on May 15, 1971, he was the son of the late Sheldon and the late Ann Gillman, he lived in Flushing throughout his childhood. He briefly lived out west in California and Colorado. He has resided in the Capital Region for the last 27 years. He attended SUNY Albany and the college of St. Rose for Judaic Studies. He spent many years working as an Executive Chef and for many years he was employed by D'Raymond's Restaurant in Loudonville. In his younger years he was an avid skateboarder and snowboarder, hitting the slopes anytime he could. He loved learning anything he could about computer technology. He loved comic books and reading. He had a special love of animals of all kinds especially his cat Reto. Julius was a selfless, gentle hearted individual who overcame many of life obstacles.
He is survived by his cousin Daniel Spiegler of Colorado and his longtime girlfriend Danielle Grogan of Watervliet and his many special friends.
Relatives and friends are invited to attend a memorial service on Wednesday January 24, 2018 from 6:00 p.m. to 7:00 p.m. at the Dufresne & Cavanaugh Funeral Home 149 Old Loudon Rd. Latham.
For directions, information, to light a memory candle or order flowers for the family please visit www.dufresneandcavanaugh.com.