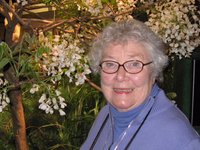 Jane Irene O'Brien
JANE IRENE O'BRIEN
Niskayuna-Jane O'Brien, a long-time resident of Niskayuna, died peacefully on Tuesday, the 2nd of January 2018 at her home.
Born in 1926 in Schenectady, NY, Jane received a Bachelor of Arts in English from New York State College for Teachers (SUNY Albany) in 1948. She continued her education at Russell Sage College where she received a Master's degree in Education. Jane taught school prior to raising her family and then later became the Director of Social Services at Bellevue Maternity Hospital until her retirement.
Jane married Thomas P. O'Brien (no relation) in 1950 and became Jane Irene Elizabeth O'Brien O'Brien. She was predeceased by her loving husband, Thomas, after 50 years of marriage.
Jane is survived by her brother George O'Brien of Phoenix AZ, her son Kevin and his wife Patricia of Huntington VT and their children Brendan and Shea, son Daniel and his wife Doris of Grafton NY and their children Cullen and Aiden, son Michael and his wife Theresa of Hopewell Junction, NY and their children Sean and Caroline, son Brendan and his wife Sachiko Funaba of Ithaca NY and their children Mina and Saya, and daughter Katie and her husband Paul Lugten, and their children Emma, Julie, and Thomas of Norfolk MA.
Jane was predeceased by her sister Eileen and brother Thomas.
A memorial mass will be held on Monday January 8, 2018 at 10:00 a.m. in Our Lady of the Assumption Church 498 Watervliet-Shaker Rd. Latham with Rev. Geoffrey Burke officiating.
Relatives and friends are invited and may call at the Dufresne & Cavanaugh Funeral Home 149 Old Loudon Rd. Latham on Sunday January 7, 2018 from 2:00 to 4:00 p.m.
Donations may be made to Community Maternity Services, 27 North Main Avenue, Albany 12203
For directions, information, to light a memory candle or order flowers for the family please visit www.dufresneandcavanaugh.com.