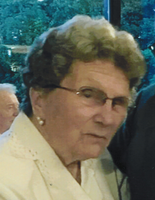 Elizabeth "Betty" Breton Lonczak-Milgo
ELIZABETH "BETTY" BRETON LONCZAK-MILGO
Albany- Elizabeth "Betty" Lonczak-Milgo of Albany and beloved wife of Christopher W. Milgo passed away peacefully on Saturday November 25, 2017 at Van Rensselaer Manor in Troy.
Born in Cohoes, Betty was the daughter of Francis X and Irene (Burns) Breton. Elizabeth had been predeceased by her first husband Henry M. Lonczak in 1981. On September 6th 1986, Elizabeth married her beloved husband Christopher W. Milgo.
Elizabeth was a secretary, employed by NYS Department of Transportation for fifteen years before retiring in 1988. She's a former member of the National American and NYS Northeast Chapter Ex Prisoner of war. She's also a former chaplain for the Hart Social Center.
Survivors include her beloved husband Christopher and children Thomas (Nancy) Lonczak, Mary (David) Jackson, Lois Johnson. Her step children Ann Marie (the late Edwin) Barbagallo, Laurie (Donald) Bauer her brother Robert (Mary Lou) Breton, and daughter in law Nancy Lonczak and Sandy Lonczak. She leaves behind 16 cherished grandchildren and 13 great-grandchildren. She was predeceased by her sons Lawrence Lonczak, Kenneth Lonczak, step-son Christopher J. Milgo, daughter in law Pamela Lonczak and step-mother Laura. Betty is also survived by several nieces and nephews.
Relatives and friends are invited and may call on Tuesday November 28, 2017 from 4:00 to 7:00 p.m. at the Dufresne & Cavanaugh Funeral Home, 149 Old Loudon Road, Latham.
Betty's Mass of Christian Burial will be celebrated on Wednesday November 29, 2017 at 9:00 a.m.at Holy Trinity Church 122 Vliet Blvd, Cohoes with Fr. Donald Bourgeois officiating.
In lieu of flowers and due to cemetery floral restrictions please honor Betty's memory by donating to the Schenectady City Mission 425 Hamilton St, Schenectady, NY 12305
Internment will take place in Saratoga National Cemetery, Schuylerville.
For directions, information, or to light a memory candle or the family please visit www.dufresneandcavanaugh.com.