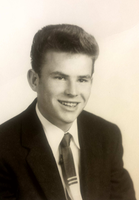 Joseph E. Della Rocco
JOSEPH E. DELLA ROCCO
Latham - Joseph E. Della Rocco, 79 of Latham, beloved husband of Barbara Spallane Della Rocco, entered into eternal life on Thursday, November 23, 2017 at Livingson Hills Nursing and Rehabilitation Center.
Born in West Albany, on October 24, 1938, he was the son of the late John and Julia (Zaloga) Della Rocco. Mr. Della Rocco married Barbara Spallane on September 8, 1963 and the two have resided in Latham since 1971 and shared a beautiful marriage of 54 years. He served in the U.S. Air Force from July 1957 to 30 June 1961. He was a Self Employed Carpenter serving the capital district for many years. Joe was a member of the West Albany Italian Benevolent Society and the Joseph E. Zaloga Post. He loved fishing, woodworking, the NY Yankees, New York Giants and NASCAR.
Survivors in addition to his wife include his children Joseph Della Rocco Jr. of Colonie, Paul Della Rocco of New Lebanon, Andrew Della Rocco of Colonie and Denise (Josh) Haskins of Boulder , CO, his sister Alice Rossi of Amsterdam, brother John Della Rocco of Loudonville, sister Wanda Hauf of Amsterdam and his cherished granddaughters Victoria Della Rocco, Stephanie Della Rocco, Stella Haskins and Giada Haskins. He is also survived by several nieces and nephews.
Funeral services will be held Thursday November 30, 2017 at 9:00 am in the Dufresne & Cavanaugh Funeral Home, 149 Old Loudon Road, Latham with Rev. Geoffrey Burke officiating.
Relatives and friends are invited to call Wednesday November 29, 2017 from 4:00-7:00 p.m. at the Dufresne & Cavanaugh Funeral Home, 149 Old Loudon Road, Latham.
Interment with full military honors will be in Saratoga National Cemetery, Schuylerville.
Due to cemetery restrictions the family requests in lieu of flowers donations to the Community Hospice 310 South Manning Blvd. Albany, NY 12208.
For directions, information, to light a memory candle or order flowers for the family please visit www.dufresneandcavanaugh.com.